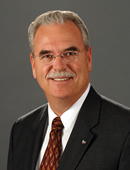 As head of the American Hospital Association, Richard Umbdenstock has a daunting task: fending off billions of dollars in payment cuts to hospitals proposed by the Obama administration to help pay for a health care overhaul.
The administration says its proposed cuts–almost $260 billion over 10 years–are justified because, under a health care revamping, the number of uninsured patients would decline, reducing hospitals' uncompensated care. But hospitals say they and their poor patients would be hurt by the cuts.
Umbdenstock has been president and CEO of AHA, which represents 5,000 hospitals, since 2007. Before that, he headed Providence Health & Services, a large hospital system in Spokane, Wash.
He talked to Kaiser Health News Correspondent Phil Galewitz.
Q: What do you think of proposals to lower Medicare and Medicaid reimbursements to help pay for coverage for the uninsured?
A: In our opinion, reform has to be a balanced approach. We know that affordability is one of the keys for reform. But any sort of provider cuts has to be connected to or accompanied by changes that enable us to reorganize the delivery system and obtain efficiencies now not readily available in order to live with those cutsCuts are not reform. Reform really has to reshape the system.
Q: Doesn't it make sense for hospitals to take less money if more patients will be insured?
A: As a general principle, we absolutely do think covering everyone will lead to savings. We just can't project what those savings will be because we don't know particulars.
We accept the fact that coverage for more people will lead to more overall revenues for hospitals. We accept the fact that, in principle, that there will be less need for some portion of Disproportionate Share Payments under Medicaid (extra payments that go to hospitals that serve a high proportion of Medicaid and uninsured patients), but we really do have to see what the details are and we have to see that payment does make its way to providers.
We have one example, in Massachusetts, where DSH funds and state level charity funds were put into new funding mechanisms (for the uninsured), and here we are a couple of years later and hospitals, especially safety net hospitals in Cambridge and Boston, aren't seeing those revenues come back to them and they have had huge financial struggles.
We could not accept putting DSH funds at risk up front on the hope or promise that money comes back. Those are extremely important funds to make up for Medicaid and Medicare shortfalls in addition to caring for the uninsured.
Q: So, again, are hospitals willing to accept lower government payments?
A: Done right, done in collaboration, we are very willing to accept that. We know the payment system has to be realigned.
Q: Despite recent reports showing average hospital margins have fallen to near zero in the past year, there are numerous multimillion-dollar renovations and expansions taking place at hospitals around the country. How do you deal with the perception that the hospital industry is financially strong?
A: It's always a challenge. It's hard to drive by a hospital from the outside and see that it's struggling. So when people do drive by a hospital and see a crane they think times must be good. But the economic downturn has hit hospitals especially hard. It's not just that the cost of capital and the cost of goods and services is higher and there's lower (patient) volumes. We are also seeing a significant increase in charity care and bad debt. Much of the construction is renovations to keep up with advances in new technology. For example, we need more square footage in many cases to keep up with new requirements for operating rooms. So it's not just simply a building boom. Hospitals have had to postpone projects in these times and we are hearing a lot more of that lately than hospitals going forward.
Q: Do you think hospitals will form "accountable health plans" (entities included in some health overhaul proposals that aim to link hospitals and other health providers to provide more coordinated and cost efficient care)?
A: We think a greater integration of the delivery system is absolutely essential for the futureWe see the benefit among those of our members that are highly integrated–Kaiser Permanente, Geisinger or Group Health Cooperative of Puget Sound. They have certainly seen the benefits. The question is how do you do that in communities where there has been no experience with integration or they do not have any of the elements of a complete continuum of care.
The answer is a lot of learning is needed before we jump into what sounds like a good concept. We need to proceed, but with cautionIn most communities, hospitals and physicians have grown up separately and it is a challenge on a lot of levels (to come together).
Q: Do hospitals want to see Medicaid expanded as a way to cover some of the uninsured?
A: Medicaid has been a significant benefit to beneficiaries and providers. On the other hand, with all the various combination of payments, Medicaid still pays hospitals 88 cents on a dollar. So from a payment shortfall point of view, it's very difficult for hospitals with a high proportion of Medicaid beneficiaries on a financial basis.
The good news is more people would have coverage if Medicaid would be expanded. The bad news is that Medicaid is a very troubled program, with 50 different programs in 50 different states, very uneven coverage, very uneven payment amounts, is heavily regulated, and highly confusing for beneficiaries. So we are not enthusiastic about seeing Medicaid expanded. We really would like to see the program strengthened and improved and see its payments put at a more reasonable level than to see it expanded at this time.