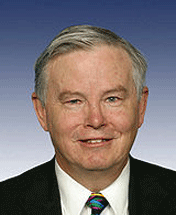 REP. JOE BARTON, R-TEXAS

RANKING MEMBER, HOUSE ENERGY AND COMMERCE COMMITTEE
Date of Birth: Sept. 15, 1949.
Education: B.S., Texas A&M University; M.S., Purdue University.
Career Path: Barton worked in the Energy Department during the Reagan administration and later as an oil and gas company consultant. He was elected to the U.S. House in 1984. He became chairman the Energy and Commerce Committee in 2004 and ranking member in 2006.
Role in Health Care Reform, 1993-1994: Barton opposed President Clinton's legislation.
Why He's a Player Now: As the senior Republican on one of the House committees with jurisdiction over health reform, he'll be a leading Republican critic of the Democratic efforts. He is also a member of the GOP health reform task force.
Quote: "I got some attention the other day for saying that I was proud that I helped kill what we all used to call Hillarycare. That's because Washington-controlled, bureaucrat-run health care is not a reform, at least not the kind that most Americans want. A system where you have to see a bureaucrat before you can see a doctor wasn't what Americans wanted then, and they don't want it now." (Congressional testimony, March 17, 2009)
Read about the other 'Players'.