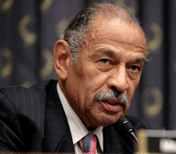 REP. JOHN CONYERS, JR., D-MICH.

CHAIRMAN, HOUSE JUDICIARY COMMITTEE
Date of Birth: May 16, 1929.
Education: B.A. and J.D., Wayne State University.
Career Path: Conyers briefly served as an assistant to Rep. John Dingell, D-Mich., before entering the U.S. House in 1964. He is a founding member and dean of the Congressional Black Caucus and occasionally blogs for various liberal websites.
Role in Health Care Reform, 1993-1994: Conyers was part of a group of lawmakers that favored a single-payer health care system to President Clinton's plan.
Why He's a Player: Conyers is the sponsor of the United States National Health Insurance Act, H.R. 676, a bill proposing a single-payer health system. It is currently the only single-payer bill before Congress.
Quote: "Health care was a critical issue to voters in NovemberAmericans demanded that our dysfunctional health care system be reformedNot only is such reform essential for the health of our citizens, it's also critical for the global competitiveness of our economy." (Roll Call, Dec. 8, 2008)
Read about the other 'Players'.