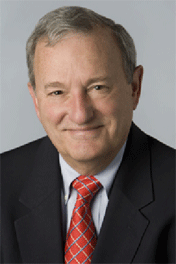 DAN DANNER

PRESIDENT AND CEO, NATIONAL FEDERATION OF INDEPENDENT BUSINESS (NFIB)
Date of Birth: Dec. 31, 1945.
Education: B.S., Purdue University; M.B.A., Xavier University.
Career Path: Danner was an executive at a steel manufacturing company and served as chief of staff to the Secretary of Commerce before moving to NFIB in 1993.
Role in Health Care Reform, 1993-1994: Danner was a member of NFIB's management team and involved in discussions and planning the organization's opposition to President Clinton's plan.
Why He's a Player Now: The NFIB can mobilize political support in congressional members' home states. The organization is strongly opposed to employer mandates.
Quote: "We're not PollyannaishThere's no question that finding a solution is not going to be easy." (USA Today, March 4, 2009)
Read about the other 'Players'.