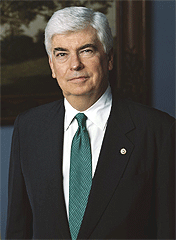 SEN. CHRIS DODD, D-Conn. 

CHAIRMAN, SENATE BANKING, HOUSING, AND URBAN AFFAIRS COMMITTEE
MEMBER, SENATE HEALTH, EDUCATION, LABOR AND PENSIONS COMMITTEE
Date of Birth: May 27, 1944.
Education: B.A., Providence College; J.D., University of Louisville.
Career Path: Dodd is the son of Thomas Dodd, a representative and senator who led the prosecution of the Nuremburg trials and was eventually censored by the Senate for misuse of campaign funds. The younger Dodd served in the Peace Corps after college and served in the U.S. House from 1975 to 1980. He was elected to the Senate, becoming the youngest senator in Connecticut history at the age of 35.
Role in Health Care Reform, 1993-1994: Dodd, a member of the HELP Committee, initially had misgivings about President Clinton's bill but eventually supported it.
Why He's a Player Now: A close friend of HELP Chairman Edward Kennedy, who is ailing, Dodd is leading negotiations on a health overhaul bill in his absence. However, Dodd has a full plate: Besides being chairman of the Banking Committee, he also faces a tough reelection battle next year.
Quote: "It is not going to be excusable to turn around and say because we were not able to agree on some process question or a debate about whether or not you have a public plan, that we are going to lose this moment that many feel may not come again for a long time if we do not get this right." (Kaiser Health News, April 28, 2009)
Read about the other 'Players'.