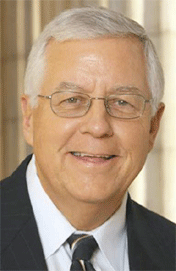 SEN. MIKE ENZI, R-WYO.

RANKING MEMBER, SENATE HEALTH, EDUCATION, LABOR AND PENSIONS COMMITTEE
Date of Birth: Feb. 1, 1944.
Education: B.A., George Washington University; M.B.A, University of Denver.
Career Path: Enzi owned a shoe business then worked in the financial sector before getting involved in local and state politics. He was elected to the U.S. Senate in 1996.
Role in Health Care Reform, 1993-1994: None.
Why He's a Player Now: As the senior Republican on Sen. Edward Kennedy's committee, Enzi is willing to make some compromises to deliver a bipartisan reform bill, but he will likely hold fast to Republican free-market principles.
Quote: "We need to enact health care reform responsibly, and that means we need to find a way to pay for it. Reform legislation must be about more than just expanding coverage; we need to get to the root of the problem by changing the health care delivery system to encourage better value and reduce costs. Collecting and spending more taxpayer dollars is unsustainable." (From the office of Sen. Mike Enzi, Feb. 26, 2009)
Read about the other 'Players'.