UPDATED 1:55 p.m. Aug. 7
Premiums for private Medicare prescription drug plans will be about the same in 2013 as they have been over the past two years, according to the Department of Health and Human Services.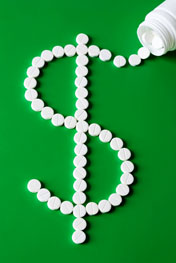 Based on drug and health plan bids, the average monthly premium for an individual next year will be about $30 for basic prescription drug coverage. That's close to what it was in both 2011 and 2012.
That is the average premium, however, and won't necessarily be available to everyone. In some regions, individuals will have their choice of lower-cost plans, but in others the price could be more than twice that average.
"Some folks won't have access to plans at this price," said Joe Baker, president of the Medicare Rights Center, a consumer advocacy group. "The bigger issue is that seniors have too much choice, or too much non-meaningful choice." Seniors, he said, "tend to go for lower premiums, which look more affordable, but they can be surprised when their drug isn't in the formulary."
In addition, it is difficult to weigh the value of a prescription drug plan until information is available about other cost-sharing requirements. For example, a drug plan might charge a low premium, but higher co-payments.
That information is not yet available.
Still, HHS encourages Medicare beneficiaries to review the prescription plans available to them each open season on the Medicare website to make sure they are enrolled in the plan that suits them best. Beneficiaries can make those choices during the plans' open season, which runs from  Oct. 15 through Dec. 7.