UPDATE 4:40 p.m.:  Sens. Joe Lieberman, I-Conn., and Tom Coburn, R-Okla., released a proposal Tuesday to overhaul Medicare that included an increase in the eligibility age to 67.
ORIGINAL POST:  Gail Wilensky and Bruce Vladeck rarely agree on anything, yet the two former Medicare administrators managed to find some common ground Tuesday in an idea that is proving wildly unpopular with seniors. The notion is raising the eligibility age from 65 to around 70, and Wilensky, who ran Medicare under President George H.W. Bush, and Vladeck, who did the same for President Bill Clinton, agreed that keeping Americans in the workforce longer is a good thing.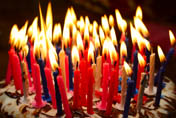 The two spoke at a Kaiser Family Foundation discussion on Medicare, where, as expected, they clashed about recent proposals in Washington to fundamentally change Medicare to slow spending. Front and center was the Republican "premium support" proposal in the House-passed budget resolution, which would limit federal spending on Medicare beneficiaries. Vladeck even interrupted Wilensky's remarks when she compared premium support to the insurance system for federal workers. An adamant Vladeck didn't think so.
When it came to raising the eligibility age, though, Wilensky recommended 70, and Vladeck said that would be just fine. "We need to keep people working," Vladeck said afterward in an interview. Later retirees, he explained, would continue to get employer-sponsored coverage, and they also would continue to pay taxes that would help fund Medicare. That's important because baby boomers have begun trickling into Medicare, while the workforce that is needed to fund them is shrinking.
That only works, though, if people in their late 60s continue punching the time clock, and that's going to happen with or without a law change, according to Vladeck. As the workforce decreases, he said, employers will be more willing to keep older workers. Washington could speed the process by offering a subsidy to help employers with the additional cost of providing insurance to older workers. But, said Wilensky and Vladeck, changing the age wouldn't save the government much money because people in their 60s are the least expensive group in Medicare.
Tricia Neuman, a senior vice president of Kaiser who moderated the discussion, also noted that most middle-income people in their mid-60s would pay more for health coverage while they were waiting longer to get into the program.
Kaiser Health News is a program of the Kaiser Family Foundation.