The next round of accountable care organizations is out at last.
On Monday, the federal Centers for Medicare and Medicaid Services announced the selection of 89 new ACOs. That's more than triple the number of ACOs selected in the previous round. As of July 1, the newly anointed networks became responsible for providing better, cheaper care to 1.2 million seniors on Medicare.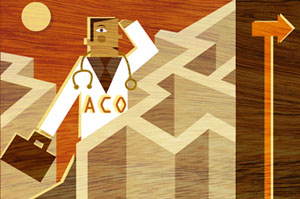 The Medicare ACO program was created under the 2010 federal health law, and there had been some worry among health care providers about what would happen to the program if the Affordable Care Act was ruled unconstitutional.
Now that the law has been upheld by the Supreme Court, Medicare ACOs that have sprouted up throughout the country can proceed with more confidence.
ACOs are networks of hospitals and doctors that receive financial incentives to coordinate care for a defined population of patients.  The idea is to improve the quality of care while lowering costs, for example, by making sure that patients with chronic conditions like diabetes and high blood pressure get the preventive care that keeps them out of the hospital.
If an ACO can manage to keep down costs for their patients by avoiding unnecessary tests and procedures, while also demonstrating that they provide high quality care, the network gets to keep a share of the savings. As models, the administration cited highly-touted health systems such as the Mayo Clinic in Minnesota and the Geisinger Health System in Pennsylvania.



> > FAQ: Accountable Care Organizations, Explained



The ACO model has also become popular throughout the private insurance world as well, and almost every major insurer is sponsoring its own ACOs for patients who are not on Medicare.
"Better coordinated care is good for patients, and it saves money," said HHS Secretary Kathleen Sebelius in a press release. "We applaud every one of these doctors, hospitals, health centers and others for working together to ensure millions of people with Medicare get better, more patient-centered, coordinated care."
This latest batch are just the most recent to jump on the Medicare ACO bandwagon. They join the 27 ACOs that began in April and the 32 Pioneer ACOs that have been active since January 1, in addition to six Physician Group Practice Demonstration projects the agency runs. More than 2.4 million seniors are now covered under Medicare shared savings initiatives in 40 states and the District of Columbia.
During the lengthy rule-making process for the program, "there were many doubts about whether ACOs would come into the program," Jonathan Blum, principal deputy administrator and director of the Center for Medicare, said during a press conference. "Obviously we are pleased with the overall numbers, but we're more pleased by the overall diversity" of participants in the program, he added.
More than half of the ACOs announced today are "physician-driven organizations serving fewer than 10,000 beneficiaries, demonstrating that smaller organizations are interested in operating as ACOs," according to the HHS announcement.
The majority of the ACOs announced in April were also physician-led organizations, which may help quell concerns that ACOs will become hospital behemoths that dominate certain communities, making it difficult for insurers to negotiate low rates for consumers.
New ACOs will now be accepted annually, with the next cohort beginning in January 2013. CMS says that 400 systems have already expressed interest in applying.