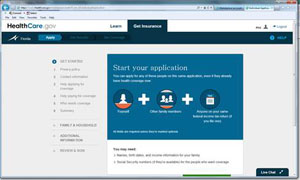 After 17 days and 63 attempts, I  finally made it.  I was able to create an account on the federal health insurance exchange at www.healthcare.gov — a task which has frustrated millions of Americans.
But as soon as I signed in with my name, address and social security number, I got thrown a trick question as the system tried to verify my identity:
"According to our records, within the last two years you purchased veterinary insurance for a pet. For which one of the following pets did you purchase insurance?"
1. Ada
2. Purranaha
3. Ira
4. Vortex
5. NONE OF THE ABOVE
For the record, I have a dog named Cooper — and he doesn't have any kind of insurance. And I've never had a pet with any of the above names.
After clicking "none of the above" and the name of the bank where I got a loan in 2008, the system verified me and let me continue. Whew!
Obama administration officials have indicated that millions of people have encountered similar problems and that repairs are underway. But they have declined to say how many people in the 36 states using the website have actually enrolled. Open enrollment goes through March 31.
I spent about 30 minutes answering additional questions about where I live, my phone number, e-mail address, income, birthday, gender and whether anyone was helping me obtain  coverage, such as an insurance agent or a "non-navigator assistance personnel." It asked if I was paying alimony, had a student loan, or had recently been incarcerated. Then, to determine if I was eligible for a subsidy, it asked about my employer, my wages, dependents and whether I was pregnant. Before I could electronically sign  my application, it asked  about my race and whether I was a U.S. citizen.
After I did all that, I got this message:
"You have started an application for health coverage, but our verification system is temporarily unavailable. Without completing verification, you cannot submit your application for an eligibility determination. We will save your information and expect to resolve the problem within 24 hours. When you return, please review your entire application from beginning to end in order to receive your online eligibility results."
While I still could not start shopping for health plans, I feel like I made progress.