MONTGOMERY, Ala. — The letters landed in early October, cancelling health plans for thousands of BlueCross BlueShield of Alabama members and offering to enroll them in new coverage at often substantially higher cost.
"I thought my plan might go up like $30. I didn't know it was going to [nearly] double" to $478 a month, said Merry Hardy, who is self-employed and lives in Alexander City, in the middle of the state. "I'm thinking, please God, let Obamacare fail."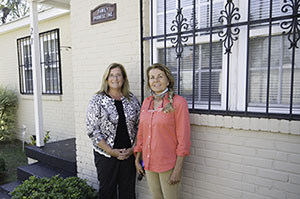 BlueCross, like Hardy, blames the Affordable Care Act, which it says disallows current, less expensive insurance for about 80,000 of its Alabama customers starting next year.
But others see insurance market dynamics as a big part of the problem. Because it covers about 90 percent of the Alabama individuals and families who buy policies directly, BlueCross faces little competition and few reasons to lower prices, critics say.
In the Huntsville area, where only BlueCross and Humana offer plans through the federal government's online exchange, the least expensive, medium-level "silver" policy for a 50-year-old costs $352 a month. A hundred miles north in Nashville, Tenn., where four insurers compete, the least expensive silver policy costs $253, or 28 percent less. These prices don't take into account the federal tax credit subsidy many buyers will receive.
Beyond Alabama 
People in other states face similar situations. Single companies dominate individual insurance in New Hampshire, Arkansas, North Carolina and elsewhere, leaving few options for consumers in the health act's online marketplaces. 
An analysis of the three dozen states relying on the federal marketplace shows that, on average, the least expensive silver plan costs 34 percent more in regions with one or two insurers selling through the marketplace than in regions with at least eight insurers.
The cancellation letters have hardened opinion against the health overhaul in a state where barely one voter in three cast a 2012 ballot for President Barack Obama.
"We're doing a good thing by getting people enrolled in affordable health coverage and it's a shame that other people are hearing their premiums are going up," said Lauren Banks, who is overseeing AIDS Alabama's program to sign people up for the law's new coverage options. "It's definitely hurting our efforts."
Aside from ads urging people to enroll, BlueCross, an independent nonprofit, is saying little except that existing plans won't comply with the law in 2014 and that new requirements such as accepting consumers with medical problems are affecting premiums. CEO Terry Kellogg declined to grant an interview.
KHN's Examination Of Cancellation Letters
Kaiser Health News reviewed nine cancellation letters sent to largely healthy consumers from ages 22 to 63 across the state who buy health insurance directly from Alabama BlueCross. The company offered new plans at price increases ranging from 38 percent to 100 percent — before government subsidies are factored in.
Consumers with incomes of up to about $46,000 for individuals and $94,000 for a family of four get tax credits to help cover the premiums. An online calculator showed Robin Cotton, a Democrat and real estate agent who lives outside Huntsville, that her family's premium for a medium-level silver policy would slightly decline next year after subsidies are included to $282, she said.
Insurers may offer several types of plans under the health law ranging from a bronze policy, which pays 60 percent of an average patient's costs for essential benefits, to platinum, which covers 90 percent of average costs.
With an income of about $76,000 for a household of two, Beth Biggs, 49, a nonprofit executive in Montgomery who describes herself as a political independent, said she won't qualify for subsidies.
Under the replacement silver plan offered by BlueCross, her monthly premium would rise 38 percent to $345 and her deductible would increase from $750 to $2,000. She's not especially mollified by the health law requirement that plans cover essential benefits, eliminate caps on claims and limit annual out-of-pocket costs to $6,350 for single coverage.
"Those of us who were hoping this was going to be a good thing are now realizing we're going to be helping a few people, but we're going to be hurting so many middle class families," she said. "We just never thought we would be dealing with this. It wasn't even on our radar."
Hardy, 56, a single Republican who runs a storm-shelter installation business, said she won't qualify for subsidies, either. Her monthly cost to cover herself would rise 77 percent to $478, and her deductible would increase by a third, to $2,000.
"I'm going to drop them" and look for a non-BlueCross plan, she said.
That may be difficult. BlueCross is the only carrier selling coverage statewide through the Affordable Care Act's online marketplace, or exchange. Other carriers, Humana and UnitedHealthcare, hold tiny pieces of the individual coverage market and often offer smaller networks of doctors and hospitals.
'The Stroke Belt'
"Nothing changed in Alabama" after health law provisions kicked in, said Chad Gay, an insurance broker based near Birmingham. "In 2013 you've got Blue Cross, United and Humana. In 2014 you've got Humana, Blue Cross — and outside the exchange — United. Same players, higher rates. Great."
Another factor pushing up costs is a high rate of chronically ill residents. Because insurers cannot bar those with pre-existing illness starting next year, many higher-cost consumers are expected to join the coverage rolls.
"There are lots of sick people here," said Michael Morrisey, a health economist at the University of Alabama, Birmingham. "There's the stroke belt" extending across the South "and diabetes and heart disease."
Even so, better state regulation and more insurers bidding for business could have saved Alabamians substantial money, said Jim Carnes, policy director for the Alabama Arise, which works to improve life for low-income Alabamians. 
If Gov. Robert Bentley spent as much energy recruiting insurers to compete against BlueCross as he does wooing industry and entrepreneurs, he could lower prices under the federal health law and boost access to care, he said.
"But instead he chose to remain passive," said Carnes. "And as a result we have the lowest level of competition on the country."
BlueCross Responds
BlueCross spokeswoman Koko Mackin said that the company offers "high quality coverage at some of the lowest premiums in the country" and that "our customers' faith in us has provided us our market share."
BlueCross Alabama had about 150,000 subscribers in 2011 purchasing plans directly instead of obtaining coverage through employers. The health law was expected to cut the state's uninsured population of 700,000 by more than half, partly through expanding the Medicaid program for the poor and partly by selling subsidized commercial coverage through the exchange.
But Bentley, a retired dermatologist, rejected the Medicaid expansion after the Supreme Court allowed states to opt out.
Alabama also is one of a half-dozen states refusing to enforce the health law. Now enrollment advocates worry BlueCross's higher prices will prompt more Alabamians to choose to pay the health law's penalty for lacking coverage rather than buy a plan.
Bentley, who in September said the best approach to the law is to "sit back and watch it crumble," did not respond to an interview request made through a spokeswoman.
Proponents say what's going on in Alabama demonstrates the risks in reform that depends on state cooperation and insurer competition. David Marcus, 51, whose BlueCross family premium is set to rise by half to $1,033 a month, says it shows basic flaws in the law. (He said he doesn't know if he's eligible for subsidies.)
"I don't think they're ever going to get it implemented completely," he said. "It's too confusing for too many people."
Jordan Rau contributed.