Memo to medical schools: If you have new ideas on how to train doctors, the American Medical Association may have some cash for you.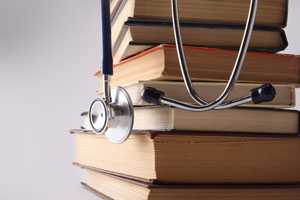 The AMA says it will provide $10 million over the next five years to fund eight to 12 "bold, innovative projects."
"Rapid changes in health care require a transformation in the way we train future physicians," AMA President Jeremy A. Lazarus said in a statement. "The AMA is deeply committed to redesigning undergraduate medical education to prepare the medical students of today for the health care of tomorrow."
Among its criteria, the AMA says it is looking for proposals that create "more flexible, individualized learning plans," or that promote "exemplary methods to achieve patient safety, performance improvement and patient-centered team based care."
Applicants have until Feb. 15 to submit their ideas. Finalists will submit their full proposals by May 15 and winners will be announced at the AMA's annual meeting in June.