Nonprofit hospitals don't issue stock, so you can't track their financial health by the ups and downs of share prices. But many sell bonds, and it's fair to say that hospital bonds haven't fared as well recently as the Dow Jones average. Last year set a record for hospital-bond downgrades, as debt levels rose and hospitals faced the uncertainty of business under the Affordable Care Act, debt-rater Moody's said this week.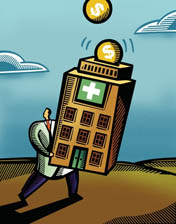 "We are on the precipice of change," said Moody's analyst Lisa Goldstein. "Revenue growth remains a key pressure point. Volumes are flat to declining, especially on the inpatient side."
There has been much discussion and disagreement about whether the deceleration in health-cost increases should be credited to the ACA or to the sluggish economy, which may prompt people to delay seeking care. Whatever the cause, the trend raises questions for medical businesses that have gotten used to health spending growing faster than the overall economy year after year.
Moody's downgraded bonds worth $20 billion last year, the most ever. That's about 10 percent of the hospital debt that Moody's follows, and far more than the $6.4 billion marked down in 2011. The previous record came in 2000, when Moody's downgraded bonds worth $15 billion.
More than half of 2012's pain came among three large systems, Catholic Health Initiatives, Dignity Health and New York's Memorial Sloan-Kettering Cancer Center. Hospitals that were downgraded typically added debt, undertook large construction projects or bore large pension liabilities, Goldstein said.
But don't write off hospitals yet. Moody's upgraded debt worth $9.7 billion last year and maintained ratings on the rest. Moody's median rating for hospital bonds is A2 , which it describes as "upper-medium grade and low credit risk." Most of the upgrades were associated with mergers that gave weaker hospitals links with bigger systems and more wherewithal to repay loans. Mergers also can give hospitals more bargaining power with insurance companies, often leading to higher prices and more revenue.
This year, too, "we do expect more downs than ups,"  Goldstein said of the ratings. "But one caveat could be, if the [merger and acquisition] activity continues — and it's at a pretty good pace — it could preclude downgrades."