Automatic spending cuts, triggered by a state's budget process, can give lawmakers political cover to slash funding to popular programs. In California, though, advocates are seizing on legal strategies to make some services budget bulletproof.
Governor Jerry Brown this week announced nearly a billion dollars in additional reductions to state spending. But advocates for the elderly and disabled have had success in recent months thwarting the automatic reductions by asserting that the state's severe cuts — some $15 billion to health and human services since 2008 — are beginning to violate federal law.
That defense has largely been the result of an aggressive legal strategy by disability rights groups, something witnessed recently when the state aborted a plan to eliminate funding for adult day health care centers in the face of a lawsuit by Disability Rights California. The centers offer health care services, shared meals and exercise among other activities and, most experts agree, help keep seniors and disabled people out of nursing homes.
But that's not the only place where state lawyers are busy. Officials in Sacramento are also preparing to defend the recent decision by state lawmakers to reduce what it pays doctors who care for Medicaid recipients before the U.S. Supreme Court. Legal advocates also successfully sued in federal court to stop $100 million in automatic cuts to the state's home care program for the disabled and frail seniors known as In-Home Supportive Services.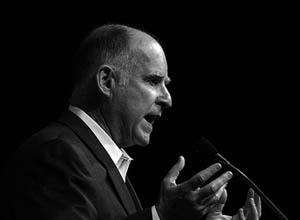 Melinda Bird, an attorney with Disability Rights California, based in Los Angeles, says the state cuts are running headlong into the Americans with Disabilities Act, the two decades old civil rights law that bars discrimination based on disability. "The ADA mandates that people be provided services in the most integrated setting appropriate to their needs," says Bird. "And that means providing the services to people at a home rather than in a nursing home." Without home aides to help them bathe, dress, eat and take medications, many of these disabled Californians, says Bird, would end up in costly nursing homes or psychiatric hospitals.
Not all of which is bad news for some politicians, says Jean Ross, Executive Director of the California Budget Project, a nonpartisan watchdog group. Lawsuits can provide political cover for legislators and agency directors reluctant to cut programs they support, says Ross, but which are vulnerable in tight economic times.
"When the proposed policies the courts in some cases have ruled against were debated before the legislature, advocates [and] others would raise the concern that they might not pass judicial muster," says Ross. In several cases, those familiar with the budget process say, lawmakers approve budget reductions knowing that the courts will likely stop them from going into effect.
In some cases, advocates for such programs are also just stalling for time. Attorneys can slow budget cuts down by arguing that recipients of public programs haven't received adequate notice, says Mike Herald, a legislative advocate for the Western Center on Law and Poverty in Sacramento. He cited a suit that his group filed against former Governor Arnold Schwarzenegger after that adminstration sought to cut child care programs for the working poor.
"We were able to go and get a judge to say, 'No, you've got to send out a notice that gives people 30 days advance warning,'" says Herald. "That pushed back the whole schedule and by then we had a new governor, and then voila he changed his position and the cuts never really went into effect."
That said, Herald and other legal advocates insist they do not just sit on the sidelines waiting to file lawsuits. Herald says that they would much rather negotiate up front with lawmakers to find ways to save money and preserve vital programs. But trying to make deals with anyone in a state with as many financial problems as California can be difficult.