With strict limits on medical facilities and equipment, Florida seems to set a high bar for building costly new hospitals. Among other criteria, organizations are required to show they won't duplicate existing services and drive up costs.
In 2006, regulators twice rejected applications from the Nemours Foundation to build a children's hospital in Orlando, concluding it wasn't needed. The area already had two large children's hospitals, they noted. Adding another could fuel health inflation and hurt quality by cutting into the business at the existing hospitals.
But Nemours refused to accept no as an answer. The powerful Jacksonville-based health charity, one of the largest and richest in Florida, started marshaling political and civic support. Among benefits it touted was the economic impact of a new hospital, including thousands of high-paying jobs. Backers rallied around the plan, deluging the state capital with more than 1,000 letters of support.
"Nemours has an outstanding national medical reputation, and prodigious financial resources," the local League of Women Voters wrote.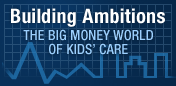 Day Two 
One City, Three Hospitals
Regional Reports 
Arizona
Chicago
Denver
Ohio
Pittsburgh
Texas
Day One 
The Rise of Children's Hospitals
The two existing children's hospitals opposed Nemours' plan. So, too, did some of Nemours' doctors, who left to join other hospitals. The Florida Health Care Coalition, an employer group aiming to lower health costs, also questioned the need for it.
"There is this idea in health care that if you build it they will come," said Becky Cherney, then head of the coalition. "That's never a good thing in health care. It's very egotistical…and drives up costs."  
But the appeal of children's hospitals as caregivers for sick kids is powerful and unique. Even as regulators continued to say another children's hospital wasn't needed, they approved Nemours' plan in February 2008 to build a seven-story, $400 million children's hospital and outpatient clinic complete with healing gardens and nature trails.
The story of how Orlando got a third new children's hospital when most cities only have one is more than a tale of wealthy health care providers pressing their case. It is also about the pressures facing state regulators charged with restraining spiraling health costs. Attempts to limit expensive new hospitals, MRIs and other technologies have been under attack almost since the first laws requiring "certificates of need" were passed in the early 1970s.
In 2009, Nemours broke ground at a ceremony attended by then Gov. Charlie Crist, local politicians and civic leaders.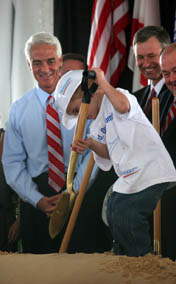 "The third time was the charm, I guess," said Richard Morrison, vice president of government relations for Florida Hospital, which operates a 200-bed children's hospital in Orlando. "They spent a lot of money making their case, and they were effective doing it."
After they gained approval, several Nemours officials contributed a total of $4,500 to the re-election campaign of state Rep. Dean Cannon, a Republican from Winter Park who helped to negotiate the final agreement with the state and other two children's hospitals. A Nemours spokeswoman said at the time that its executives were free to support whomever they liked. Cannon's office did not return e-mails or phone calls for comment.
Florida regulators declined to discuss their decisions in the Nemours case saying they didn't have time for detailed questions. Nemours officials turned aside repeated interview requests to discuss why they insisted on building in Orlando instead of a less developed area of the state, or why they weren't willing to merge their plans with one of the existing children's hospitals.
In bond filings and other reports, Nemours' officials have said that they will be providing much needed care to a growing community. "A key objective of the new hospital is to establish Central Florida as a leading health care region in the country through pediatric research, advocacy, and training," Nemours wrote as part of a $300 million bond offering to fund its new hospital.
Like most large, powerful nonprofits, Nemours has its own institutional ambitions. An internal vision statement notes that Nemours seeks to be recognized as one of the nation's leading health care systems. In its various state applications, Nemours officials said they aspire to be ranked among the nation's elite children's hospitals.
The foundation serves as an umbrella organization for all of Nemours' health operations. In addition to the new Orlando children's hospital, scheduled to open next year, Nemours owns and operates a 200-bed children's hospital in Wilmington, Del., and several clinics. In 2009, the foundation reported $662 million in revenue, including $94 million from the $3.1 billion trust of the late industrialist Alfred I. DuPont, who directed his estate to create the charity.
Nemours' decision to build its own children's hospital in Orlando evolved over time. In 1996 Nemours started to share its specialist physicians with the 160-bed Arnold Palmer Hospital for Children, named after the legendary golfer and benefactor. "For a number of years we worked really well with Nemours," recalled Arnold Palmer's longtime CEO, John Bozard. "It was a real partnership. Some of our best physicians were from Nemours."
But in the mid-2000s the relationship began to sour. Bozard said there were disputes over money, physicians and plans for a new hospital that Nemours and Arnold Palmer officials were discussing building together at the time.
"They never mentioned anything about a separate inpatient facility, Bozard recalled. "But things started to get strange after that. They wanted to negotiate everything."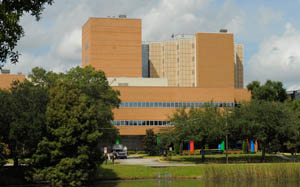 At one point, Bozard said, Nemours representatives offered to buy the Arnold Palmer Hospital. "We actually told them it was not for sale. They wanted to know if they could buy in as a partner. We told them we would entertain a 50-50 partnership. They turned that down. They said it had to be 51 percent."
Cherney attempted to get the two sides to work out their differences, arranging meetings with doctors and top executives. "We said why don't you two combine? It's supposed to be about the kids."
After a while, the meetings collapsed. "When you meet with docs it becomes a very egotistical thing, a turf war," Cherney said. "They both just said we can't get along. We each have to be the boss."
In 2005, Nemours informed Arnold Palmer that it intended to file a "certificate of need" with state health planners to build its own children's hospital about four miles from downtown Orlando. Foundation executives stressed that their hospital would be devoted solely to children, unlike the other two hospitals, which are part of larger adult systems.
Executives of the two other children's hospitals were upset by the proximity of the Nemours' site. They also said they were offended by the implication that Nemours would provide superior care. "Arnold Palmer and Florida Hospital are both large, well-respected children's hospitals," Morrison said. "It turned into a slugfest after that."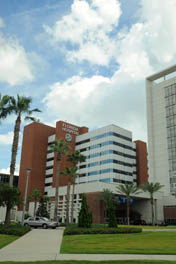 The application was submitted to the Florida Agency for Health Care Administration in Tallahassee, where health planners reviewed it. The regulators concluded that the Orlando market already had a surplus of pediatric beds; the two existing children's hospitals were operating below capacity and could accommodate future growth.
Most cities have enough children to support a single children's hospital, said Larry A. McAndrews, until last week the head of the National Association of Children's Hospitals and Related Institutions. "That's what the market will support. There are exceptions. But Orlando stands out. I can see how people might have some questions."
Undeterred, Nemours officials filed a second application. They stressed that their hospital would provide more complex, cutting edge care than the two other children's hospitals. "Among the applicant's expectations is being recognized nationally as a 'top tier' children's hospital."
There is no official top tier designation for children's hospitals. The reference apparently was to an annual survey published by U.S. News & World Report ranking children's hospitals according to selected criteria.
The state health planners noted that Nemours had operated the Alfred I. DuPont Hospital for Children in Delaware for decades without achieving an overall top ranking. They rejected the second application. "Need is not demonstrated," they wrote.
By this point, in 2006, Nemours officials had started to scramble. They initiated an aggressive publicity campaign reaching out to politicians, civic leaders and media outlets.
They also set up a website and polled Orlando area residents, reporting that 95 percent of those surveyed favored their plan.
"There was a lot of community support because they were bringing in new money," said Morrison. "It was all about jobs."
Nemours looked at a new location near the airport called Lake Nona. The site includes the University of Central Florida's new medical school, the Burnham Research Institute and a VA center. A new children's hospital would nicely fit the vision of local politicians of making Orlando a medical destination.
"Nemours selected central Florida as the location for a new facility in order to participate in the region's development into a leader in medical care and research," Nemours said in a 2009 bond document.
Belle Isle Mayor William G. Brooks echoed that theme in a letter of support. "What Nemours brings is not just more beds," he wrote, "but a global resource and name in medical research and treatment." 
Florida regulators again concluded the hospital wasn't needed. But this time they approved Nemours' plan, linking it to the larger efforts to develop Orlando's medical hub.  
"A new administration had come in," Morrison said, referring to Crist. "I think the new administration had a general attitude of more is better."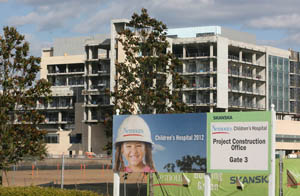 The two other children's hospitals challenged the ruling. But rather than fight a long, expensive legal battle, they negotiated a settlement in February 2008.  Nemours officials agreed to a series of conditions, including not competing for two years with the other two children's hospitals in the lucrative areas of open heart surgery, angioplasty and organ transplants. Nemours also agreed to provide much-needed mental health and rehabilitative care, and to accept a large number of patients with Medicaid.
Some question if the agreement will hold. The Orlando region has struggled in the recession, losing jobs and population. "We're actually getting smaller," Cherney said. "That's going to make it challenging."
In order for Nemours to succeed, it will need to attract patients from across the state, not just the Orlando region, says Aaron Liberman, chairman of the health management department at the University of Central Florida. "If on the other hand they serve as a competitor for the same services provided by Florida Hospital or Arnold Palmer, then this could spell a real problem for all three institutions."