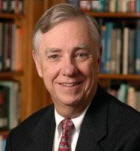 Dr. Richard Gilfillan, the new acting director of the Center for Medicare and Medicaid Innovation, has quite a juggling act to perform, says Gail Wilensky.
"It is one of the most important positions in HHS because almost all of the reform of the delivery system potential hinges on this innovation center. It is as key a position as there is," said Wilensky, who ran the Health Care Financing Administration – now known as the Center for Medicare and Medicaid Services – from 1990 to 1992 and is now a senior fellow at Project HOPE, an international health foundation. "There will indeed be pushback from people who see themselves as losers in the face of this change" and the director must be "politically savvy and sensitive but still being willing to be a risk taker."
Gilfillan's appointment became public Monday. The center, which will begin operations Jan. 1, is part of CMS and the Department of Health and Human Services. Dr. Donald Berwick runs CMS and will work with Gilfillan.
Gilfillan can draw deeply on his experience at Geisinger Health Plan in his new job at the center, created in the health law to test and expand programs designed to improve care and reduce medical costs.
He is the former president and chief executive officer of Geisinger Health Plan and also served as executive vice president of insurance operations for Geisinger Health System, the Pennsylvania-based integrated health system that lawmakers often pointed to during the health debate as a model of how medical care could be better coordinated and cost-effective.
Gilfillan, who like Berwick is a physician, joined CMS in August, directing the agency's performance-based payment policy staff and implementing programs, including the early development of accountable care organizations. Before that, he was a consultant for Geisinger Consulting Services, where health care providers and payers design and implement accountable care organizations, patient centered medical homes and bundled payment systems – all included in the health law with the hope that they will improve medical care in federal health care programs while reducing their cost.
His appointment was done on an acting basis because the position "is extremely important in health reform" and CMS officials "are working to get the right people in place as quickly as we can," agency spokesman Tony Salters said. No timeline has been determined for filling the job permanently.
According to Geisinger's Health Plan's latest tax filing, from June 2008 through June 2009 Gilfillan earned $995,784. The website Open Secrets.org shows that in the 2008 general election Gilfillan contributed $2,300, the maximum contribution allowed, to President Obama's campaign.
This is one of KHN's "Short Takes" – brief items in the news. For the latest from KHN, check out our News Section.