Federal officials have taken another step toward their goal of better treatment for and even prevention of Alzheimer's disease by 2025. On Wednesday, an advisory council convened by the Obama administration released a fleshed-out, draft version of its national plan to address Alzheimer's.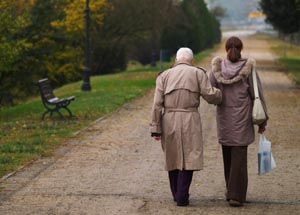 Much of the plan was already known from the draft framework published in January. Experts put an emphasis on expanding and better coordinating disease research, especially through public-private partnerships. They also stressed better preparation for the health care workforce, improving public outreach and providing effected families with financial and other support. To achieve these goals, President Obama proposed as part of his fiscal year 2013 budget an additional $106 million in federal funds.
In its latest version of the national plan, the Alzheimer's advisory council reveals a few more specifics about how the money would be spent. For example, they propose creating registries to better funnel Alzheimer's patients into clinical trials, as well as establishing a national inventory of research investments.
On the health care side, the council proposes working with private partners to develop evidence-based guidelines for Alzheimer's care and creating a national clearinghouse to publicize those recommendations. Also, the council advocates that new health care models – including the medical homes and accountable care organizations promoted by the 2010 federal health law – be analyzed for outcomes among Alzheimer's patients in particular.
The draft national plan is open for public comment until March 30.