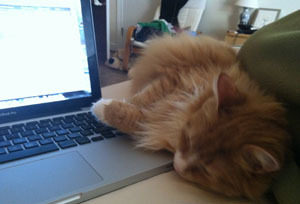 6:11 p.m.: It's been a long long day, and Atticus Finch, Esq., the Affordable Care Cat, is pooped. We're going to wrap up for the day, but thanks so much for joining us here on the KHN live blog. It's been swell.
6:04 p.m.: Governors from all sorts of states respond to the health law decision in this cool infographic from Statereforum.
5:48 p.m.: Don't miss our KHN story on what the Medicaid ruling means for states.
"The Supreme Court has given states a way out of expanding the Medicaid program under the health law, but governors will be under strong pressure to take the federal money that would pay for coverage for millions of low-income people," KHN's Phil Galewitz and Marilyn Werber Serafini report.

5:40 p.m.: Missouri won't take the federal money for expanding Medicaid, Missouri House Budget Chairman Ryan Silvey told KHN's Phil Galewitz in a phone interview. "I don't see any chance of that happening," he said.
According to Silvey, Missouri can't afford to pay more than $100 million a year starting in 2017 to pay its portion of the coverage expansion. "Its just not a sustainable option," he explained. He expects that most states will opt out.
The expansion would result in cuts in state spending on education and public safety, he added.
Asked how turning down the expansion money would play, Silvey told KHN, "My job is to balance the state budget."
5:32 p.m.: NPR has a useful interactive look at the Supreme Court's written decision that allows you to navigate to key portions. Check it out here.

5:13 p.m.: In a strange and mysterious way, "Obamacare comes full circle." Check out this circle chart from ABC News.
4:51 p.m.: On the blog Just Enrichment, Adam Chandler has some fodder on what internal deliberations in the court brought about this decision, suggesting that Roberts may have changed sides at the last minute.
"Jeffrey Toobin tweeted that 'Roberts was red-eyed and unhappy as he read' his opinion in Court this morning, which might be grist for speculation that he came to his position late and grudgingly. One wonders why we didn't hear Justice's Scalia's voice on this. He would have been the senior Justice in the coalition of four, giving him assigning power on an issue that animated him a great deal during oral argument. Was it too late for him to whip out his poison pen after Roberts decided to uphold the Act? The only conservative dissenter to write separately was Justice Thomas, and his separate dissent was just a paragraph. Did Roberts act so late in the day that none of them had time to write a full dissent from scratch?"
In an update, Chandler adds that "Justice Ginsburg's opinion uses strongly critical language throughout, directed almost exclusively at the Chief Justice rather than the other four conservatives. It does not read as someone trying to woo him to her side, but rather as a stinging dissent from a decision striking down the individual mandate."
4:38 p.m. On Twitter, Sen. John Thune, R-SD, offers a sharp rebuke of the individual mandate as tax:
@SenJohnThune: Broken Promise: "I will not raise taxes on anyone making less than $250,000 a year."–Candidate Obama
#
ObamacareTax
http://bit.ly/LTpk36
and then:
@SenJohnThune: According to CBO, more than 75% of individual mandate tax increase will fall on those families making less than $250k. http://bit.ly/OzHTwD
4:33 p.m.: The Caucus looks at why Chief Justice Roberts made the surprising decision to uphold the individual mandate:
"To those on the left who viewed him as an ideologue eager to pull the court rightward in a political fashion, this will now begin a re-examination of his style and legacy as it will for those on the right who considered the law unconstitutional and relied on him to make that point," writes Ethan Bronner.
It was striking, Bronner continues, "to hear Mr. Roberts, who arrived on the court in 2005 appointed by George W. Bush, announce the upholding of the central legislative pillar of the Obama administration."
But "if President Bush ends up ruing the day he placed Mr. Roberts in his position, he would not be the first. His father appointed David H. Souter to the court and he ended up a mainstay of the court's liberal wing. Dwight D. Eisenhower was said to have called his appointments of Earl Warren and William J. Brennan Jr. two of his biggest mistakes."
In the KHN/SCOTUSblog live chat going on now, Lyle Denniston notes that Roberts is particularly sensitive to criticisms that he is leading a partisan-driven court.
4:07 p.m.:  Watch our KHN/SCOTUSblog chat on the decision, LIVE NOW!
4:05 p.m.: Robert Pear at the New York Times has an interesting story on whether the states will choose to expand Medicaid.
"Senator Lamar Alexander, a Tennessee Republican who is an opponent of the health law, predicted that many states would choose not to expand Medicaid," and added that if he were still governor, he would choose not to expand the program.
"Mr. Alexander said that public higher education was 'a big winner' under the court decision. 'Over the last 25 years,' he said, 'federal Medicaid mandates have soaked up money that states would normally spend for public colleges and universities.'"
The AP has reported that "top Republicans say Mississippi can't afford to expand its Medicaid program to cover more people under the federal health care overhaul."
3:32 p.m.: Some very clever wordplay from Michael Perkins (@perkinsms) on Twitter:
"ACA Ruling: Mandates are ok.
Lawrence V. Texas: Man dates are ok.
Sunmaid V. finicky three-year-old: Man, dates are ok."
3:29 p.m.: "Packy Goes to the Supreme Court," a storybook from Comedy Central featuring the Affordable Care Act! He's ready for his closeup, Mr. DeMille…
3:22 p.m.: Trying to make sense of the Supreme Court ruling? Don't miss our KHN live chat at 4pm, featuring our reporters and the folks from SCOTUSblog. You can watch it here.
3:10 p.m.: President Obama initially believed that the individual mandate had been overturned, following false reports by several news organizations, TPM reports.
"The president remained calm in the face of what would have been devastating news for his signature legislation, according to senior White House officials. One to two minutes passed before White House Counsel Kathryn Ruemmler entered the room flashing two thumbs to signal that the law had, in fact, survived almost entirely intact.
Obama's first response was confusion: Two of the four televisions in the outer Oval Office were still breathlessly pronouncing the mandate dead. But the initial shock quickly turned to smiles and hugs, the administration officials said, as the true results sunk in."
Obama's very first phone call was to Solicitor General Don Verrilli "who was widely criticized for his performance defending the law before the Supreme Court, to congratulate him."
Verrilli seems to have been vindicated. In a Tweet earlier today, CNN's Jeffrey Tooobin wrote: "Big winner at ‪#scotus today is don verrilli, solicitor general. Among losers is me, who was so critical of of his oral argument."
2:59 p.m.: "Hey Girl… I'll uphold you any day." And other thoughts from Ryan Gosling on the SCOTUS ruling via The Huffington Post.

2:44 p.m.: On Twitter, Ryan Lizza of The New Yorker points out that mittromney.com mentions "as president, Mitt will nominate judges in the mold of Chief Justice Roberts and Justices Scalia, Thomas, and Alito."
… wonder if he still feels that way about Roberts?
2:38 p.m.: Justice Ginsburg took a little jab at Romney in her concurring opinion, noting that in creating the individual mandate, Congress was following Massachusetts' lead, TPM reports.
"Massachusetts, Congress was told, cracked the adverse selection problem. By requiring most residents to obtain insurance … the Commonwealth ensured that insurers would not be left with only the sick as customers. As a result, federal lawmakers observed, Massachusetts succeeded where other States had failed. In cou­pling the minimum coverage provision with guaranteed­ issue and community-rating prescriptions, Congress followed Massachusetts' lead," Ginsburg wrote.
2:36 p.m.: Republicans are hitting back hard on the idea of the mandate as a tax.
"The president of the United States himself promised up and down that this bill was not a tax," Senate Minority Leader Mitch McConnell, R-KY, said on the Senate floor. "This was one of the Democrats' top selling points because they knew it would never have passed if they said it was a tax.  Well, the Supreme Court has spoken, this law is a tax."
2:28 p.m.: And then there's this from Sen. Rand Paul, R-KY:
"Just because a couple people on the Supreme Court declare something to be 'constitutional' does not make it so. The whole thing remains unconstitutional. While the court may have erroneously come to the conclusion that the law is allowable, it certainly does nothing to make this mandate or government takeover of our health care right."
I mean… I guess it takes at least 5 of them…
2:24 p.m.: Sarah Palin, health care poet:
@SarahPalinUSA: Obama lied to the American people. Again. He said it wasn't a tax. Obama lies; freedom dies.
2:21 p.m.: KHN's Jay Hancock has more on the markets on Capsules:
"Stocks of for-profit hospital companies soared on Wall Street today even as the overall market fell. HCA Holdings, for example, which owns more than 100 hospitals, was up 10 percent in early afternoon trading. Competitors Tenet Healthcare and Community Health Systems were also surging."
"Most health insurance stocks, on the other hand, fell. UnitedHealth Group, which offers a variety of health services in addition to insurance, was down less than 1 percent. WellPoint was down 5 percent."
2:18 p.m.: KHN has posted transcripts for both Obama's and Romney's remarks on the SCOTUS decision. Happy reading!
2:09 p.m.: And in case you were worried that Call Me Maybe wouldn't make an appearance all day, there's this from the (fake) Obama on Twitter:
@ThePresObama: Hey I just met you, and this is crazy. You still have health care. Thank me, maybe.
2:06 p.m.: A coupla fun ACA cartoons from the folks at NPR.
2:00 p.m.: Two scooplets from Politico:
Romneyland reports $1 million has already poured in post-decision.
And they interviewed the cancer patient Natoma Canfield that President Obama mentioned in his speech. Canfield says she "got goosebumps" watching Obama tell her story in his victory speech.
1:45 p.m.: "Oh, OK – NOW Obamacare's a Tax"– an interesting take from Michael Cannon at the libertarian Cato Institute:
"Congress and the president swore up and down that the mandate was not a tax. Yet the Court upheld the mandate as a valid use of that disavowed taxing power. What Congress said the individual mandate is, the Court said is not constitutional. What Congress said the mandate is not, the Court ruled is constitutional. Everybody got that?
Where does that leave us?
1. The Supreme Court just enacted a law that Congress never would have passed.
2. The Court just told Congress it is okay to lie to the people to avoid political accountability."
1:41 p.m.: GOP leaders have found key rallying points in the court's ruling to add momentum to their prospects in the current campaign season – the health law's threat of big government and taxes.
During press statements just minutes ago, House Speaker John Boehner reiterated the importance of repealing the health law and replacing it with Republican health care reforms that will keep health care costs down. Meanwhile, House Majority Leader Eric Cantor, R-Va., said the decision "underscores the importance of this election," adding that it indicates the beginning of an age where the federal government will control health care "unless something changes."
1:36 p.m.: More from Texas!
Our NPR member station partner in Houston, Carrie Feibel of KUHF, gives us the reaction of two providers at a federally qualified health center.
"I screamed 'yes!' and then I was just very grateful. Grateful for my patients," said Dr. Charu Sawhney, an internist at the Hope Clinic, a federally-qualified health center that serves the uninsured and focuses on Houston's Asian immigrant communities. About 85 percent of clients are uninsured, they expect that ratio to drop to 30 percent under ACA. "With the provisions that are in the law, it's going help a lot of my patients. Several of them work, you know, one or two jobs. They are working Americans and they just don't have enough money to get health insurance. And for them, the health insurance exchange will be a tremendous opportunity for them to finally be insured in Texas."
"The other patients that I think about are the patients with pre-existing health conditions who have the money to buy insurance but keep getting denied because they have well-controlled hypertension or some other past medical history that basically limits them from getting insurance," Dr. Sawhney said. "For those people, until the 2014 provisions kick in, they will be able to enroll in the Pre-Existing Health Condition insurance plan, and I think that's why I was just very, very grateful that finally our patients can get the help that they need."
Dr. Andrea Caracostis, M.D., MPH, executive director of the Hope Clinic, said patients' behavior is likely to change from "patients from going to the emergency room to actually seeking a primary care home."
1:28 p.m.: We've got two very different views coming out of the great state of Texas.
In a statement, Republican Gov. Rick Perry (and former presidential hopeful), calls the Supreme Court decision "a stomach punch to the American economy."
"It is a shocking disappointment to freedom-loving Americans desperate to get our country back on track… Freedom was frontally attacked by passage of this monstrosity – and the Court utterly failed in its duty to uphold the Constitutional limits placed on Washington."
Yet Texas Attorney General Greg Abbott writes in his statement that the decision "is an historic victory for individual liberty, states' rights, and limited government. Today the Supreme Court made crystal clear that the federal government is more restrained than yesterday and yet, through a novel application of the facts, the Court did what Congress was afraid to do–called ObamaCare a tax on all Americans."
But lest you think that the Texas Republicans are breaking up, both Perry and Abbott go on to call for a repeal of the health law.
1:25 p.m.: A nice time line from USA Today on the health care law from conception through the Supreme Court ruling.
1:15 p.m: Apparently, a substantial number of Tweeps are now planning to move to Canada because the court's decision means the "United States is entirely too socialist." I think they might be surprised once they get there…
1:03 p.m: In
The New Republic
, Bill Galston, senior fellow at Brookings, writes that Roberts' move to uphold the mandate is "a stunning decision that will define his legacy as chief justice."
"One can only speculate about Roberts' motives for proceeding as he did. It is certainly possible that, like Chief Justice Charles Evans Hughes in the mid-1930s, he had one eye focused on jurisprudence and another on the standing of the institution he heads. This may be another 'switch in time' that saved the Court from becoming embroiled in a full-fledged confrontation with the executive and legislative branches."
12:57 p.m.: Some interesting perspective from Wall Street Journal reporters Carol E. Lee and Naftali Bendavid oon the poltiics surrounding the court's ruling:
"There has rarely been a moment like this in American politics, with the Supreme Court ruling in the middle of an election year on a piece of legislation that has sharply divided the two parties and emerged as an incumbent president's proudest achievement, as well as a rallying cry for unseating him."
12:49 p.m.: Check out KHN's take on the decision in this story by our Julie Appleby.
12:46 p.m.: Here's a little more harsh criticism from Justice Ginsburg on Chief Justice Roberts' reading of the commerce clause: "The Chief Justice's crabbed reading of the Commerce Clause harks back to the era in which the Court routinely thwarted Congress' efforts to regulate the national economy in the interest of those who labor to sustain it."
12:40 p.m: A little chuckle from Obama: "It should be pretty clear by now that I didn't do this because it was good politics. I did it because I believed it was good for the country."
12:37 p.m: Take a lil' break from the ACA hubbub with this important news from the Affordable Care Cat!
12:35 p.m.: And here's a statement from Governor Bobby Jindal, R-LA:
"Ironically, the Supreme Court has decided to be far more honest about Obamacare than Obama was. They rightly have called it a tax. Today's decision is a blow to our freedoms. The Court should have protected our constitutional freedoms, but remember, it was the President that forced this law on us.
"The American people did not want or approve of Obamacare then, and they do not now. Americans oppose it because it will decrease the quality of health care in America, raise taxes, cut Medicare, and break the bank. All of this is still true. Republicans must drive hard toward repeal, this is no time to go weak in the knees."
12:30 p.m: What happens in the states may be another story entirely… Gov. Walker is still going rogue.
"I continue to oppose ObamaCare," Wiscosnsin Governor Scott Walker (R) said in a statement. "Wisconsin will not take any action to implement ObamaCare. I am hopeful that political changes in Washington D.C. later this year ultimately end the implementation of this law at the federal level."
12:28 p.m.: "No illness or accident should lead to any family's financial ruin," President Obama says in his victory speech.
12:25 p.m.: Justice Ruth Bader Ginsburg on Robert's "rigid" reading of the Commerce Clause:
"The provision of health care is today a concern of national dimension, just as the provision of old-age and survivors' benefits was in the 1930's. In the Social Security Act, Congress installed a federal system to provide monthly benefits to retired wage earners and, eventually, to their survivors. Beyond question, Congress could have adopted a similar scheme for health care. Congress chose, instead, to preserve a central role for private insurers and state governments. According to THE CHIEF JUSTICE, the Commerce Clause does not permit that preservation. This rigid reading of the Clause makes scant sense and is stunningly retrogressive."
12:16 p.m.: Obama is speaking right now. Watch here.
12:14 pm.: KHN legal analyst Stuart Taylor calls this morning's ruling "the most amazing Supreme Court theater I've ever seen." And that's saying somethin'! Watch the video of his conversation with Jackie Judd here.
12:07 p.m.: POLITICO Pro reports that health care stocks were divided after the ruling:
"The stock market dropped Thursday following the Supreme Court's ruling on Obama's health care law. The Dow Jones was down 144 points — 1.14 percent — on the day, having dropped steeply immediately following the opening bell and again following the court's decision. Health insurance stocks were sharply divided, with companies that focus on policies for private companies dipping down and those that do business with Medicaid up."
12:05 p.m.: The Heritage Foundation released the following statement on the ruling:
"The Supreme Court's decision to uphold Obamacare reflects a tragic misreading of the law, one which could cost us not just economically but also in terms of liberty. On the bright side, the Court recognized that there are limits to what Congress may do under the Commerce Clause.  But this was the silver-lining of a dark cloud.  The Court then fundamentally misreads Obamacare, contorting to find another authority—the power to tax—for Congress to enact the law."
The Heritage Foundation was initially a supporter of the individual mandate many moons ago, and developed the idea for lawmakers in Congress.
11:59 a.m.: And speaking of Romney… The Atlantic Wire reports that, "Mitt Romney's spokeswoman said the candidate raised $300,000 off the ruling in the first hour after it was handed down."
11:57 a.m.: Romney is speaking right now. Here's a live stream of the video from Washington Post.
11:54 a.m.: And here is Roberts' summary of why the court decided not to call the whole thing off:
"The Affordable Care Act is constitutional in part and unconstitutional in part. The individual mandate cannot be upheld as an exercise of Congress's power under the Commerce Clause. That Clause authorizes Congress to regulate interstate commerce, not to order individuals to engage in it. In this case, however, it is reasonable to con­strue what Congress has done as increasing taxes on those who have a certain amount of income, but choose to go without health insurance. Such legislation is within Con­gress's power to tax."
"The Framers created a Federal Government of limited powers, and assigned to this Court the duty of enforcingthose limits. The Court does so today. But the Court does not express any opinion on the wisdom of the Affordable Care Act. Under the Constitution, that judgment is re­served to the people."
11:51 a.m.: Here's a money quote from the Roberts decision, summarizing the Medicaid ruling:
"The Court today limits the financial pres­sure the Secretary may apply to induce States to accept the terms of the Medicaid expansion. As a practical mat­ter, that means States may now choose to reject the ex­pansion; that is the whole point. But that does not mean all or even any will. Some States may indeed decline toparticipate, either because they are unsure they will beable to afford their share of the new funding obligations,or because they are unwilling to commit the tive resources necessary to support the expansion. Other States, however, may voluntarily sign up, finding the idea of expanding Medicaid coverage attractive, particularly given the level of federal funding the Act offers at the outset."
"We have no way of knowing how many States will ac­cept the terms of the expansion, but we do not believe Congress would have wanted the whole Act to fall, simply because some may choose not to participate. The other reforms Congress enacted, after all, will remain 'fully operative as a law,' Champlin, supra, at 234, and will still function in a way 'consistent with Congress' basic objec­tives in enacting the statute,' Booker, supra, at 259. Confident that Congress would not have intended any­thing different, we conclude that the rest of the Act need not fall in light of our constitutional holding."
11:47 a.m.: I've been jonesing for a haiku all morning! At last, a Kaiser Health News reader offers this reaction – giving a breaking news feel to our usual health policy haikus:
THE COURT SPEAKS, WHAT'S NEXT?
Mandate? It's a tax!
The Hill prepares for battle
In the off-season.
11:43 a.m.: Democrats are already fund raising off of the health law victory, Politico reports. "In an e-mailed appeal sent around 11:15 a.m. Thursday, Rep. Steve Israel (D-N.Y.), the DCCC chair, asked for donations. 'Republicans threw everything they had at us, and they lost,' Israel wrote. 'With you standing with us, we can carry this momentum into November and win a Democratic majority to keep making progress. Please donate $3 or whatever you can right now.'"
11:40 a.m.: Check out the scene outside the court in this Washington Post photo gallery.
11:35 a.m.: Lyle Denniston's summary is up on SCOTUSblog. He writes that "By a vote of 5-4, however, the Court did not sustain it as a command for Americans to buy insurance, but as a tax if they don't.  That is the way Chief Justice John G. Roberts, Jr., was willing to vote for it, and his view prevailed.  The other Justices split 4-4, with four wanting to uphold it as a mandate, and four opposed to it in any form."
He also adds that, "It is not immediately clear whether the Court's approach will produce as large a pool of new customers.   The ACA's key provision now amounts to an invitation to buy insurance, rather than an order to do so, with a not-very-big tax penalty for going without."
11:22 a.m.: In a statement on the floor of the Senate, Majority Leader Harry Reid, D-NV, says that "this matter is settled. No one thinks this law is perfect. But Democrats have proven we're willing to work with Republicans to improve the Affordable Care Act. Millions of Americans are still struggling to find work. Our first priority must be to improve the economy. It's time for Republicans to stop refighting yesterday's battles. Now that this matter is settled, I hope we can work together to create jobs and secure this country's economic future."
11:21 a.m.: CNN is reporting that Romney will speak at 11:45 a.m.
11:18 "Pelosi is wearing her lucky purple pumps today," according to a tweet from Meredith Shiner of Roll Call. I would agree that purple is objectively the best color in the spectrum.
11:14 a.m: The President is rumored to be speaking at 12:15pm.
11:10 a.m.: Broccoli made it into the decision! In rejecting the argument that the mandate is constitutional under the commerce clause, Roberts writes: "under the Gov­ernment's theory, Congress could address the diet problem by ordering everyone to buy vegetables… Everyone will likely participate in the markets for food, clothing, transportation, shelter, or energy; that does not authorize Congress to direct them to purchase particular products in those or other markets today. The Commerce Clause is not a general license to regulate an individual from cradle to grave, simply because he will predictably engage in particular transactions."
11:06 a.m.: The AMA and AHIP have released statements, but neither talk about Medicaid. Perhaps they had prepared responses for the mandate decision but were taken off guard by the Medicaid part?
11:04 a.m.: An interesting point from Lyle on the broader implications of the ACA ruling: "The rejection of the Commerce Clause and Nec. and Proper Clause should be understood as a major blow to Congress's authority to pass social welfare laws. Using the tax code — especially in the current political environment — to promote social welfare is going to be a very chancy proposition."
10:59 a.m.: A key quote on Medicaid from Robert's portion of the decision: "In this case, the financial 'inducement' Congress has chosen is much more than 'relatively mild encourage­ment'—it is a gun to the head… The threatened loss of over 10 percent of a State's overall budget, in contrast, is economic dragooning that leaves the States with no real option but to acquiesce in the Medicaid expansion."
10:57 a.m.: The Republicans plan to keep fighting. According to a press release from House Majority Leader Eric Cantor, R-VA, "during the week of July 9th, the House will once again repeal ObamaCare, clearing the way for patient-centered reforms that lower costs and increase choice. We support an approach that offers simpler, more affordable and more accessible health care that allows people to keep the health care that they like."

10:51 a.m.: In a phone interview, Bill McCollum, former Florida attorney general, told KHN, "I'm disappointed and shocked that Justice Roberts led the charge to uphold the constitutionality of the mandate and called it a tax." McCollum filed the first state lawsuit against the act. "I certainly don't think it's a tax. It's a sad day for the American people," he added.
McCollum predicted the law's survival would energize attempts to defeat Obama in November elections and repeal it.
"If the president is re-elected, then this law will go forward," McCollum said. "If he isn't, then I think there will be a different outcome in the health care arena."
10:45 a.m.: NPR reports that supporters of President Obama broke out in chants of "Yes We Did!" outside the court when the decision was announced.
10:39 a.m.: An explanation of what the opinion actually means in plain English, from SCOTUSblog: "The Affordable Care Act, including its individual mandate that virtually all Americans buy health insurance, is constitutional. There were not five votes to uphold it on the ground that Congress could use its power to regulate commerce between the states to require everyone to buy health insurance. However, five Justices agreed that the penalty that someone must pay if he refuses to buy insurance is a kind of tax that Congress can impose using its taxing power. That is all that matters. Because the mandate survives, the Court did not need to decide what other parts of the statute were constitutional, except for a provision that required states to comply with new eligibility requirements for Medicaid or risk losing their funding. On that question, the Court held that the provision is constitutional as long as states would only lose new funds if they didn't comply with the new requirements, rather than all of their funding."
10:37 a.m.: And here's a link to the pdf of the full decision on KHN. Should be easier to access.
10:33 a.m.: The decision is up at long last.
10:29 a.m.: Kennedy is reading the dissent… "In our view, the entire Act before us is invalid in its entirety."
10:25 a.m.: The individual mandate was upheld 5-4. Chief Justice Roberts was the swing vote.

10:23 The important thing for Medicaid seems to be that the federal government can't take away states existing Medicaid funds. Details from Lyle: "The key comment on salvaging the Medicaid expansion is this (from Roberts): 'Nothing in our opinion precludes Congress from offering funds under the ACA to expand the availability of health care, and requiring that states accepting such funds comply with the conditions on their use. What Congress is not free to do is to penalize States that choose not to participate in that new program by taking away their existing Medicaid funding.'"
10:20 a.m.: From Amy Howe, SCOTUSblog (aka our blogging heroes): "The money quote from the section on the mandate: Our precedent demonstrates that Congress had the power to impose the exaction in Section 5000A under the taxing power, and that Section 5000A need not be read to do more than impose a tax. This is sufficient to sustain it."
10:13 a.m.: "The bottom line: the entire ACA is upheld, with the exception that the federal government's power to terminate states' Medicaid funds is narrowly read." — from Tom at SCOTUSblog (we're still analyzing things here at KHN). More to come.
10:12 a.m.: And the Medicaid provision is limited, but not invalidated.
10:11 a.m.: Chief Justice Roberts joins the majority, SCOTUS blog reports
10:09 a.m.: SCOTUSblog says the individual mandate survives as a tax.
10:07 a.m.: The decisions are starting! The Public Information Office has one small box and one very large box of opinions on its desk; presumably the larger one is for the health law decision, according to SCOTUSblog.
10:04 a.m.: Check out this video of Mitt Romney praising the individual mandate in 2006 on the New York Times live blog.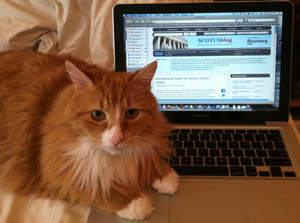 9:51 a.m.: Atticus the Affordable Care Cat has been anxiously waiting for the Supreme Court's decision since the wee hours of the morning. But haven't we all?
9:46 a.m.: Tension is thick, nerves are jittery and the coffee is flowing… blow off a little steam by previewing what's at stake from the ruling in our Daily Health Policy Report.
9:38 a.m.: And we have our first little tidbit of news: CNN is reporting that President Obama will react to the Supreme Court ruling shortly after the opinion is issued. I think we can expect a flurry of activity this morning.
6:00 a.m.: Good morning. We're all expecting the Supreme Court to rule on the constitutionality of the health law today, and Kaiser Health News will be here to help you make sense of it all.