A poll released Thursday revealed significant discrepancy among Republicans who were asked whether it's more important to reduce the federal budget deficit or to maintain Medicare and Social Security benefits.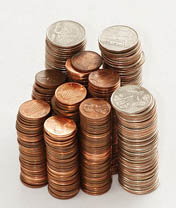 Not surprisingly, it was all about money.
In a survey conducted by the Pew Research Center, more affluent Republicans favored reducing the deficit, while lower and middle-income Republicans sided with Democrats and said that Washington should stay away from the two entitlement programs.
Specifically, 63 percent of Republicans with annual incomes above $75,000 said it was more important to reduce the deficit, while 29 percent of this group preferred keeping Social Security and Medicare benefits as they are. Among those with incomes below $30,000, however, 62 percent favored maintaining benefits.
As for those in the middle, a majority of Republicans with incomes between $30,000 and $75,000 sided with lower-income party members to keep entitlement benefits intact.
Taken together, 60 percent of all respondents, regardless of party, said it was more important to keep Social Security and Medicare benefits the way they are.
Cuts to Social Security and Medicare have been floated as congressional leaders continue discussions with President Obama about a deal to raise the debt ceiling.  The seniors group AARP vowed today to fight any attempt to cut Medicare or Social Security benefits. AARP "strongly urges the president and congressional leaders to reject any proposals that would impose arbitrary, harmful cuts to the Medicare program or shift additional costs onto Medicare beneficiaries," said AARP CEO A. Barry Rand. "Half of all beneficiaries live on incomes of less than $22,000, and many already struggle to pay for their ever-rising health and prescription drug costs."
The Pew poll surveyed 1,502 adults from June 15-19 and has a margin of error of +/-3.5 percent.