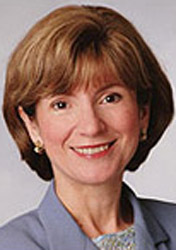 If the short-term scorecard on health reform is based on public opinion polls, elections and court rulings, the long-term impact is based on much more important and lasting measures: whether fewer Americans get preventable diseases; whether more serious illnesses are caught early when treatable; whether fewer insured families are forced into bankruptcy when serious illness strikes; whether patients get higher quality, better coordinated care; whether our nation sees fewer unintended pregnancies; whether more of us live healthier lives. The real impact of reform will ultimately be measured by the health of the nation — and by that measure, few decisions are more important than what is included in the essential benefit package.
What are America's women and families looking for? They want confidence that when they buy health insurance, it will cover a comprehensive set of benefits that is crafted to meet the real needs of real people in this country. That means setting a national standard for an essential benefit package that:
• Ensures that everyone who is covered receives the health care services they need at all stages of their lives and across the continuum of care — from primary care doctor to hospital to rehab center to home, and anywhere else they need.
• Recognizes that reproductive health care is absolutely central to women's health, including maternity care, well-woman and well-child visits, cancer screenings and the full range of reproductive health services and supplies.
• Takes into account the needs of individuals with chronic conditions so they can reliably access the care they need to stay healthy and/or maintain their quality of life without suffering financial hardship or devastation.
• Does not drive adverse selection, or cause plans to try to avoid covering those who rely on our health care system the most.
• Is adequate and affordable for all populations, including people with unique health care needs or needs that make them heavy users of our health care system. To craft a package that meets the needs of these communities, the Department of Health and Human Services should look to the public plans that right now disproportionately cover these populations such as Medicaid, Medicare and the Children's Health Insurance Program, as well as employer-sponsored plans.
The development of this package is a balancing act between making sure Americans have access to the kinds of health care services they need most and keeping this coverage affordable.
As I travel around the country, I talk often to patients and their families. Like anyone who is engaged on this issue, I have heard from families devastated because the insurance plans they purchased let them down just when they needed those plans most — when a child was diagnosed with juvenile diabetes and complications developed; when a parent was in a car accident and needed extensive care; when cancer spread and weeks of chemotherapy stretched into months of care.
Those families, and all families that may someday face challenges like those, are counting on reform to ensure that the coverage they purchase covers the health services they need. They want — and deserve — the peace of mind that comes with knowing that their insurance will be there when they need it most.
That will only happen if the administration defines an essential benefit package that is adequate.
If the administration adopts a strong essential benefit package, beginning in 2014, for the first time in history all new insurance plans for individuals and small businesses will cover needed services, including private insurance policies that are certified and offered in state health insurance exchanges.
We are about a month away from the first announcement on this, when the Institute of Medicine will recommend a process and methodology for defining the essential benefit package. How that package is designed, and what ultimately is included and excluded, will in many ways determine whether reform delivers on its promise.
We all have a lot at stake. For those of us who are weary of the kind of scorched earth political battles that have surrounded reform, this is why we stay in the fight. And it's why we simply have to win. Ensuring that those who need help the most can access the health care they need is what reform is all about.
Debra L. Ness is president of the National Partnership for Women & Families.