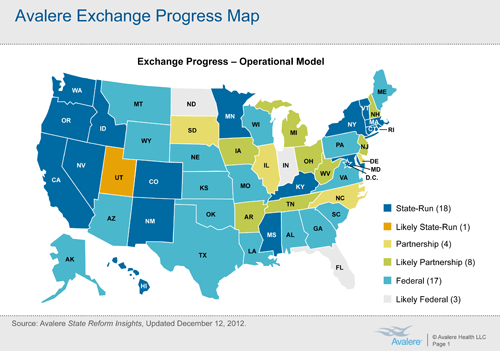 Updated at 5:35 p.m.
The Obama administration will have to build and operate online health insurance markets for more than 30 states, something few expected when the federal health law was approved in 2010.
With today's deadline hours away, only 18 states and the District of Columbia had proposed running their own insurance markets, also known as exchanges, a key vehicle under the law to expand health coverage to an estimated 23 million people over next four years.
"Most analysts did not anticipate that the federal government would end up playing such a big role in the operation of exchanges nationwide," said Carolyn Pearson, a director at the Washington, D.C., consulting firm Avalere Health.
When President Barack Obama signed the Affordable Care Act, the option to have the federal government run the state markets was seen as a backstop. Administration officials have repeatedly said they hoped most states would run the markets themselves because they know their insurance markets best.
Most experts thought only states with small populations such as Delaware or Montana would seek federal help. Instead, most will rely on the federal government — including two of the most populous states, Texas and Florida, which together account for nearly 20 percent of nation's uninsured.  By law, the state exchanges must be approved by the federal government by Jan. 1, begin enrollment next October and have coverage take effect Jan. 1, 2014.
Administration officials say Americans can be assured the markets will be available in every state next year for people to compare and buy coverage. This week, eight states — Colorado, Connecticut, Kentucky, Maryland, Massachusetts, New York, Oregon, Washington and the District of Columbia — were given "conditional" approval for their exchanges.
For consumers, the new exchanges will operate similarly to online travel Internet sites Expedia and Orbitz in helping people compare benefits and prices. But the exchanges will also have broad powers to determine which plans are available and the types of benefits offered. They will also determine who is eligible for federal subsidies as well as Medicaid, the state-federal health insurance program for the poor.
Most Republican-led states have opted against running an exchange, although Idaho and Nevada this week said they would seek approval. Most did little work to prepare to build exchanges over the past two years as they first sought to overturn the health law in the courts and then delayed implementation activities hoping President Obama would lose re-election. Neither occurred.
In a development Friday afternoon, Utah Gov. Gary Herbert asked Health and Human Services Secretary Kathleen Sebelius to certify that state's exchange, which was built before passage of the health care law and is geared to small business. "Generally, I would prefer a state-based approach if I were to have the flexibility to stay true to Utah principles," Herbert wrote. "Consequently, I intend to move forward with Utah's version of an exchange and am requesting that you certify Utah's version of an exchange as ACA-complaint."
Herbert acknowledged that Utah's exchange was "atypical," but suggested it serve as "the minimum standard for all federally compliant exchanges."
States that don't run their own exchange have two options: a federal exchange that needs little state participation or a federal partnership exchange, in which states help by performing certain duties such as providing customer service. States have until Feb. 15 to say whether they intend to seek a federal partnership exchange. Four  — Delaware, Illinois, Iowa and North Carolina — have done so already, Gary Cohen, director of the Center for Consumer Information and Insurance Oversight at the Department of Health and Human Services told lawmakers Thursday.
On Friday, Iowa Gov. Terry Branstad said his state would also seek a partnership model. "The state of Iowa intends to minimize the federal government's intrusion into the regulation of insurance," Branstad wrote to HHS Secretary Kathleen Sebelius. "We will continue to regulate insurance plans in Iowa and retain control over our Medicaid and Children's Health Insurance Plan eligibility."
With the pressure mounting on federal regulators to operate or assist in operating exchanges in most of the country, "I don't envy them for the job that they have," Dennis Smith, the top health official in Wisconsin told a congressional committee Thursday. Wisconsin won't pursue a state exchange.
But Ceci Connolly, managing director at consulting firm PricewaterhouseCoopers, said the work for the administration is the same whether one state or 50 states opt for a federal exchange.  The challenge will be in coordinating that federal exchange with various state Medicaid programs and creating a seamless experience for consumers, who are likely to move back and forth between Medicaid and private insurance, she said
"It is going to be a sprint for government officials and the industry to be ready by next fall," Connolly said.
States planning for state exchanges, according to Avalere:
California
Colorado
Connecticut
District of Columbia
Hawaii
Idaho
Kentucky
Maryland
Massachusetts
Minnesota
Mississippi
Nevada
New Mexico
New York
Oregon
Rhode Island
Utah
Vermont
Washington