Fewer American families are having problems paying medical bills, according to a study released Tuesday by the National Center for Health Statistics. Still, nearly a fifth off families still struggle with that financial responsibility.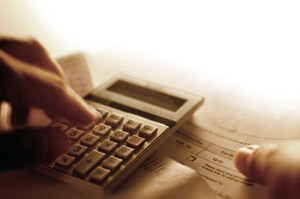 The report found that 20.3 percent of families headed by someone under the age of 65 — 54.2 million people — had difficulty covering medical expenses in the first half of 2012, compared with 21.7 percent of families — or 57.8 million people — in the same period in 2011.
The federal agency didn't offer an explanation for its finding. Other experts said factors likely driving the decline include a more robust economy, declines in the use of health care services,  slower increases in health care costs and provisions in the Affordable Care Act that expand insurance coverage to young adults and eliminate lifetime caps on insurance benefits and phase out annual caps.
"Two things may be happening," said David Newman, executive director of the Health Care Cost Institute in Washington, D.C.  "The financial situation of many families is improving, along with the economy.  And people appear to be consuming fewer health care services; as this happens, they have fewer bills to pay."
The NCHS report is by far the largest study of its kind.  Results come from in-person interviews with 155,321 individuals conducted between January 2011 and June 2012.  Other research that has examined the burden of medical bills on families has been based on much smaller samples.
Individuals without insurance were the only group to experience more difficulties paying medical bills: 36.3 percent reported this concern in the first half of 2012, up from 35.7 percent a year earlier. By contrast, 14 percent of families with private insurance had similar problems in the first half of 2012, down from 15.7 percent the year before.
Among those with public insurance – Medicaid, military programs, Children's Health Insurance Program coverage, Medicare, and other plans – 25.6 percent said it was hard to cover medical expenses in the first half of 2012, a drop from 28 percent a year ago.
Other research lends weight to the findings. In April, the Commonwealth Fund published a report that suggested there was a "leveling off" between 2010 and 2012 in what had previously been steady increases in the number of people who have trouble making payments on medical bills, said Sara Collins, a vice president at the Commonwealth Fund and an author of the report.
She credited the Affordable Care Act for helping change the trend line.  About 3.4 million young adults have gained insurance since the law let individuals up to age 26 be covered through their parents' policies.   Meanwhile, caps on lifetime benefits have been eliminated, annual limits on benefits are being phased out, and a number of preventive services are now available without cost sharing under the law, Collins noted.
The new report's findings are also "broadly consistent" with what the Center for Studying Health System Change found in a December 2011 report tracking families' difficulty paying medical bills, according to Peter Cunningham, a senior fellow at the Washington, D.C., organization.
"Since 2010, we've seen very little change in the number," he said, probably because of "the moderation in health care costs and because people have been pulling back on their healthcare utilization and spending."