As policymakers in Washington struggled to avoid a year-end budget crisis affecting spending on the biggest health programs, gerontologists on the other side of the country were worrying about how to meet long-term care needs of the expanding senior population. At the Gerontological Society of America's 65th annual scientific meeting in San Diego, Dr. Toni Miles, director of the Institute of Gerontology at the University of Georgia, called for a reinvigorated version of the CLASS Act.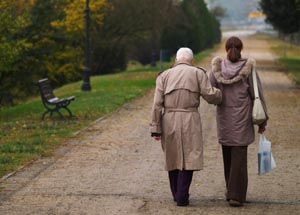 The Community Living Assistance Services and Supports Act, a voluntary insurance program offering a range of long-term care benefits, is part of the Affordable Care Act. But it was shelved by the Obama administration in October 2011 for cost reasons. Miles, author of a recent book on the Affordable Care Act,  said the details of the CLASS Act ought to be reworked and folded into the coverage requirements of the health law, helping to spread risk and reduce cost.
"Baby boomers are beginning to put incredible pressure on our long-term care system," she said at the conference, which ended Sunday. "How to finance long-term care in this country is already a real issue for many states, especially those that are attractive to retirees."
One CLASS Act provision that Miles especially wants to see revived is a cash benefit option for disability care. "It gives people a choice in obtaining the appropriate services to meet their specific needs," she explained.
Seniors' health care is costly, and while Medicare and private supplemental insurance pick up much of the bill, states help pay for nursing home care for the poor through the Medicaid program. Although the federal health law provides for a massive expansion of Medicaid eligibility, some governors may opt out, despite a heavy federal subsidy.
"Medicaid is integral to the expansion of long-term care at the state level," Miles said. "Yet Medicaid expansion itself is threatened. A revamped CLASS Act that provides long-term care insurance for everyone is the best policy solution we have."
"The key," Miles added, "is to make it mandatory, like regular health care insurance."