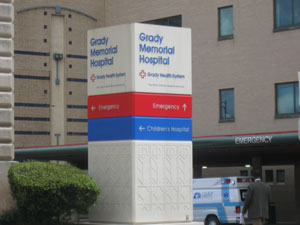 ATLANTA —  The emergency room, once hampered by old, balky equipment, now has a new CT-scanner, digital X-ray and ultrasound machines.
Throughout Grady Memorial Hospital, electronically powered beds have replaced the 1980s-era clunkers that required a team of people to push.
The changes signify hope for Grady, which edged away from the brink of collapse over the past year. But the hospital, like other safety-net facilities across the country, is still facing severe financial strains, as the recession drives more uninsured patients through its doors and the search for adequate funds is a continuing scramble.
Grady's money woes grabbed the headlines in recent days when the hospital's plans to close an outpatient dialysis center to save money touched off an uproar among patients and their advocates. A county judge issued a temporary restraining order, but later lifted it. Grady plans to shut the dialysis unit Saturday, though officials say they'll help 50 patients find a long-term solution for their care.
There are other signs of continuing financial woes: The Fulton County Commission in September approved $10 million for Grady after officials warned they'd otherwise not be able to meet payroll.
Even in shaky times, Grady is the cornerstone of Atlanta medical care.  The 722-bed hospital, opened in 1892, operates the city's only Level 1 trauma center, runs the largest publicly funded infectious disease clinic on the East Coast and trains one in four Georgia doctors. It's where victims of the Olympic Park bombing were transported. "Grady babies" – born at the hospital — include presidential adviser Vernon Jordan, former Health and Human Services Secretary Louis Sullivan and singer Brenda Lee.
Despite the recent wave of capital improvements, much of which was paid for by philanthropy, Grady's operating deficit is projected to top $30 million for the fourth straight year. "The stress is extremely high," says Dr. Arthur Kellermann, a Grady emergency room physician and a nationally known expert  on medical issues. "I know [the Grady administration] is extremely concerned about the cash flow."

Unprecendented cuts in services
The financial storm has forced tough-minded austerity steps. Grady Health System has laid off 140 employees and announced plans to close three of nine satellite clinics. While Grady leaders say the cuts will have minimal effect, patient advocates see a trend toward diminishing access to services – especially for immigrants.
The economic downturn has driven hospitals of all types to trim spending. But safety-net hospitals, which serve large numbers of poor people and have historically low operating margins, are experiencing a jump in uncompensated care costs during the recession. They have had to make cuts in services and staff  "on a scale I've never seen," says Lynne Fagnani, senior vice president of the National Association of Public Hospitals and Health Systems. She cites major cutbacks at public hospitals in Las Vegas, Cleveland, Houston and New York.
These hospitals – with their dependence on government payments — won't see their financial troubles disappear when the recession eases, she says.  Medicare and Medicaid patients often are money-losers for hospitals.
An overhaul of the health care system, if enacted, could deliver insurance to millions of uninsured Americans – and a surge of needed reimbursements to Grady and other safety-net hospitals. But Fagnani also notes that federal subsidies for care to the poor, crucial to these hospitals, may be cut to help pay for a health overhaul.
Meanwhile, the closing of clinics in underserved areas will have a major impact, she says, at a time when health care legislation would  increase the number of patients needing access to care.
Grady's staff reductions and proposed clinic closures are only part of its cost-cutting, an advocacy group says. Many uninsured Grady patients recently have found it more difficult to get discounted care, says the Hispanic Health Coalition of Georgia. Tighter rules verifying patients' incomes, IDs and residences appear "to be squeezing Latinos out of the Grady system," the group says.
Ernestina, a legal immigrant from Honduras, says through an interpreter that she no longer qualifies for the Grady discount card. The 67-year-old has diabetes and high blood pressure, and her arthritis is painful enough to limit her movements, so she can't work and thus has no income. A Grady counselor told her she needed to get a job, says Ernestina, who declined to give her last name to protect her identity and out of fear of possible reprisals. 
Eligibility for the card is based on income, and it's on a sliding scale. Grady financial counselors now insist on checking pay stubs, thus eliminating workers paid in cash, patient advocates say.
"Grady's mission forever has been to serve the underserved populations; if Grady doesn't serve these populations, who will?" says Dr. Flavia Mercado, a pediatrician and medical director of the International Medical Center at Grady.
With the eligibility changes,  she says, "I think we'll see more emergency room visits of people that should have been seen at the primary care clinics."
Grady Health System CEO Michael Young says Fulton County, which annually provides millions of dollars to Grady, requires more documentation of its care for the uninsured. "We may be enforcing things now," Young says.
"At the end of the day, if Grady is going to be here, we have to have some payment," Young says. "Patients will have to take some responsibility." 
Young, who has been at Grady since last September, also points to Grady's swelling burden of charity care. He projects Grady will deliver $300 million in free care this year, up from $270 million in 2008, as the recession strips many patients of job-based health insurance. Its annual operating budget is $665 million.
One of every three Grady Health System patients has no health insurance. The conventional wisdom holds that if Grady closed, nearby hospitals would be swamped with nonpaying patients.
Last year, Atlanta's business community threw its considerable muscle behind the health system. Grady underwent a restructuring and is now governed by a nonprofit corporate board. It's chaired by Pete Correll, chairman emeritus of paper and building products giant Georgia-Pacific.
A commitment of $200 million over four years from the Woodruff Foundation for equipment has begun transforming the hospital, machine by machine.  In addition, Emory University School of Medicine, which supplies more than 80 percent of Grady's doctors, last year forgave $20 million in debt by Grady, and Morehouse School of Medicine, which provides the rest, forgave $400,000, though Grady still owes about $43 million and $8 million to the schools, respectively. 
The Atlanta business involvement and the capital upgrades have lifted the mood of Grady staff, says Dr. Lawrence Sanders, associate dean at Morehouse.  The new equipment allowed the hospital to pass accreditation after a problem-filled inspection by the Joint Commission and emerge from "the horse and buggy" era, Young says.
Reliable radiology will allow Grady to perform more angioplasties and cardiac catheterizations.  The old imaging capacity was "like driving a car while blindfolded," says Dr. Sepehr Panah, chief of interventional radiology.
The 40-year-old sterilizers in the operating room are gone. The hospital will have a new IT system in about 13 months, Young says, and be as wired as any hospital.

'Ridiculously Underfunded'?
Other improvements are coming. In April, Home Depot co-founder Bernie Marcus promised $20 million for trauma care and a stroke unit. More recently, other corporate titans kicked in money for Grady: Georgia Power Company, $3 million; Cox Enterprises, $2.5 million; and Georgia-Pacific, $1 million.
But government aid is also vital to Grady – and is a constant sore point for Grady supporters such as Kellermann, who says the hospital is "ridiculously underfunded."
The two urban counties that fund it, Fulton and DeKalb, have kept their contributions basically flat, at about $100 million. And despite getting no funding from suburban governments, uninsured patients from those counties still receive Grady services. Young cites as an example a Clayton County resident receiving  a $125,000 back operation.
Meanwhile, the state of Georgia   – wrestling with a huge shortfall – has decreased its trauma care funding for hospitals. And Grady Health System recently was told to refund $20 million in Medicaid overpayments made in 2004 and 2005. 
While awaiting developments in Congress, Grady is pushing to attract more privately insured patients, now accounting for about 15 percent of the system's 700,000 annual outpatient visits and 28,500 admissions. Young, ever confident, says Grady soon will start marketing its proficiencies at stroke care, among other services. One current Grady billboard features CNN medical correspondent Dr. Sanjay Gupta, who practices at Grady.
The hospital is making strides on medical quality, says Young. Infection rates have decreased, as have medication errors, he says. Patients' length of stay has plunged from an average of 8 days to 5.1 days.  Kellermann adds that Young has "cracked the whip" to address a chronic problem of Grady "boarding" patients in the emergency area for hours until they can be admitted.
Mercado says Grady has backed away from closing a satellite clinic in Northeast Atlanta where many Hispanic patients seek treatment.
Still, with Grady's existing funding challenges, Kellermann says, "it's very difficult to not affect patient care" by cost cutting. More patients appear in the emergency department who have lost access to discounted medications, he says. 
Health care reform may eventually bring relief to safety-net hospitals such as Grady, Kellermann says. But, in the short term, "it's going to be very tough."