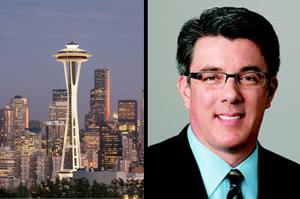 One of the lesser-known parts of the new health law is a provision that provides federal loans to help fund health cooperatives. Advocates say these Consumer Operated and Oriented Plans, or co-ops, essentially insurers run by their members, encourage competition especially in the individual and small business health insurance markets. This month, HHS will begin considering rules for the co-ops.
Currently there are very few co-ops in the U.S., but one that is considered a model of success is Group Health – a 64-year-old Seattle based nonprofit health system that provides insurance to more than 600,000 people. It employs doctors, nurses and other providers, owns clinics and also partners with hospitals to provide inpatient care. In 2009, Consumers Reports ranked Group Health as the nation's top health maintenance organization in terms of consumer satisfaction.
Scott Armstrong, the CEO of Group Health, sat down with KHN's Bara Vaida, just prior to the House of Representatives' vote to repeal the health law. Here are edited excerpts from the interview:
Related Content
Watch video of the interview
Q. Insurance rates, broadly, keep going up, and your rates have gone up too — in 2009, up about 13 percent. Are they going to go up this year?
A. They will go up. Of course, our premium rate increases are entirely a function of our medical expense trends and so to the degree that we are successful at organizing care delivery so that those medical expense trends are lower, our premium rates will be lower. Our expectation is that we'll keep our rate increases in the single digits.
Q. What has been the biggest thing that you've been able to change to keep costs from rising so quickly?
A. The change in our primary care practice, often referred to as a medical home, is a great example. We have changed the schedule patterns for our primary care providers basically giving them much more time with every patient. We've changed how our nurses and pharmacists work collaboratively with our primary care doctors to manage the care for a panel of patients.
We are reaching out to patients who are overdue for visits, scheduling time for e-mail and phone visits and overall being a much more assertive coordinator of our patients' care. The results have been amazing, showing that investing in primary care in an integrated system like this will drive — by almost 20-percent — emergency room visits down, will drive hospital utilization down by more than 10 percent.
Q. There's been a lot of talk about

accountable care organizations

and whether that might be one of the solutions.
A. Well the hardest part about these accountable care organizations is that there are very few organizations today that actually have an ability to know what is happening for a population of patients as they get care through the system. The accountable care organizations have to create a specialty practice where specialists are willing to sit down and engage patients in shared clinical decision making and [for example] ask a patient who's a good prospect for a total knee replacement whether they really understand the implications, the risks and other issues associated with a knee replacement versus other alternative approaches to getting their knee problem taken care of.
Today, those surgeons are motivated to do surgery. They don't really have time to engage the patient in consideration of these choices. If an accountable care organization creates a structure where those doctors do have the time and it makes sense for them to lower their surgery rates but to improve the health of the population that they're caring for, then accountable care organizations will be doing good work.
Q. Is that the way it works with Group Health with specialists?
A. We have about a dozen specialty procedures where we are making the time to, through the use of DVDs and through interviews with our providers, involve our patient in an objective evaluation of two, three, four different alternative therapies or approaches to dealing with their issue whether it's hysterectomies, knee replacements other joint replacements.
In some of these high-volume procedures, we're seeing a 10-to-12-percent drop in the procedure rate itself. We're finding that patients are thrilled to be involved and to know really what the implications of these choices are. We're finding that the providers are very gratified by the fact that they are able to engage in this dialogue with their patients.
Q. There's also been talk of ACOs driving hospital consolidation and insurance companies have been worried that hospitals will sort of gang together and charge more to insurers.
A. The cost of hospital care is a fairly large part of the overall cost of care for our patients but it is just one relatively small slice in the overall care experience for the patients.
Far more relevant than whether hospitals, to use your term, are ganging together and raising their rates inappropriately is the degree to which our patients are in those hospital beds inappropriately. We know that even within our own system there's fairly wide variation in days from one hospital to the other.
The Medicare population has a readmission rate that's over 20 percent. If you think about that, when one in five patients being readmitted to the hospital for the same diagnosis within 30 days of being discharged is symptomatic of a system that's not really working very well as a system.
Our thinking was that well let's cut that in half. We have — through just changing certain basic practices, making sure that patients were discharged with a visit to their primary care doctor within two weeks, making sure every patient discharged understands their medications and gets a phone call from the nurse that saw them in the hospital within two days.
These simple kinds of changes have reduced our readmission rate at Group Health to somewhere in the mid-teens to low-teens. This will, for our system alone, annually save more than $50 million.
Q. I want to just wrap this up and talk about Washington. How do [Republican attempts to repeal the federal health law] affect your business?
A. It has no bearing at all. We are as focused as ever on the kind of changes that we've been talking about to the care delivery system, regardless of what the federal law is.
I would be disappointed, I mean deeply disappointed, if the law was repealed because there are features of it that do help advance and accelerate this kind of change but it won't change the priorities that we set and the way that we spend our time.