Which phrase best describes Democrats' ideas on overhauling the health care system: a) a government takeover of health care, or b) a way to lower costs and improve the quality of care delivered? Is the proposal a) a package of tax hikes that will cripple small businesses, or b) a way to save families $1,800 a year?
Related Audio

Listen to interview:
KHN's Eric Pianin talks with Rep. Chris Van Hollen, head of the House Democrats' campaign committee, and Education and Labor Committee Chairman George Miller about what rank-and-file members should be saying about their party's health care legislation during the August recess.
Those are just a few of the talking points crafted by Democratic and Republican leaders for Congress members to use during the August recess. They're designed to help lawmakers explain the complexities of the ongoing health care debate in simple terms that could sway the public their way.
Democrats: Health insurers are clearly the target of a "pocket card" distributed by House Speaker Nancy Pelosi, D-Calif. Overhauling the nation's health care system will "hold insurance companies accountable" and guarantee "stability, lower costs, higher quality and more choice of plans." Taming health care costs will also help businesses, the economy and the federal budget, according to the document. Consumers also won't be able to lose coverage if they get sick and insurers won't be allowed to charge "excessive" out-of-pocket expenses, deductibles or co-payments.
Republicans: A recess packet distributed by House Republican Conference Chairman Mike Pence, R-Ind., says the Democrats' health plan includes more than $800 billion of new taxes that will eliminate up to 5.5 million jobs. A one-page description says the Republican version of health care legislation will "expand access to affordable health care" and allow families "the freedom to choose the health care that bests fits their needs." The GOP recess packet also includes an "organizational chart" of the Democrats' health plan that highlights Republicans' views of how complex the legislation is.
Republican Talking Points (click to read full text)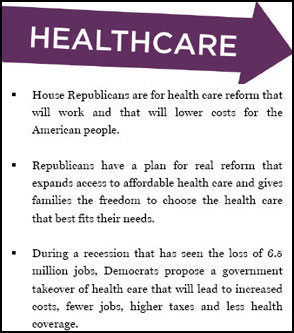 Democratic Talking Points (click to read full text)