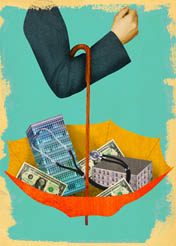 Here's one change few were talking about when the health overhaul law passed: It's sent insurers – worried the law could stunt profits and growth – looking for new types of business.
Where are they investing? In less-regulated companies that could yield strong profits and make the main business – insurance – more lucrative. The purchases also could increase insurers' control over more parts of the health system.
Insurers have moved into technology, health-care delivery, physician management, workplace wellness, financial services and overseas ventures in wide-ranging efforts to mitigate the new rules imposed by the law. Since June 2009, seven of the nation's largest insurers have made 25 major deals, and only six of those acquisitions run health plans, according to an analysis of data collected by FactSet Research Systems, a private company.
At an investors meeting in February, Rick Jelinek, UnitedHealth Group's top executive for emerging businesses, said the company's future growth would be in services that are "much less regulated" than insurance plans.
In 2010, UnitedHealth Group bought ChinaGate, which helps bring medical treatments to market in China; Picis, a technology vendor specializing in clinical and financial management systems for hospital emergency departments and intensive care units; the medical screening company Wellness; and six other firms.
In December, Aetna acquired Medicity, a business that helps hospitals share patient information. The federal government will reward hospitals and doctors with more than $30 billion in increased Medicaid and Medicare payments by 2015 for adopting electronic medical records, but only if they can share their data.
Also in December, Humana bought Concentra, a Texas-based urgent- and occupational-care provider with clinics in 40 states. More than one-third of Humana members live within 10 miles of a Concentra clinic, making its services convenient for the insurer's members. Last year it also bought a health coaching firm that helps employers keep workers healthy, and in February it partnered with a South African company to launch new wellness services in the United States.
Those moves represent only big-ticket buys that require regulatory approval or that companies chose to announce. Insurers
can buy smaller firms or create businesses from scratch without disclosing details.
For instance, OptumHealth, a UnitedHealth subsidiary, has quietly taken control of Memorial Healthcare IPA, a Los Angeles company that manages more than 400 doctors, according to a document filed with the California Secretary of State's office. OptumHealth declined to discuss details of the deal. A Memorial Healthcare executive, Patty Page LaPenn, said in a statement that relationships with patients and other businesses "will continue as usual."
The trend shifts
Insurers have been on buying binges before – in the past decade, the seven large firms publicly acquired 137 companies. However
– with the exception of UnitedHealth, which has been building its technology arm, Ingenix, since 1997 – they focused on acquiring
rival health plans and insurance services firms. For instance, 10 of 13 deals Humana struck before 2010 involved health plans.
The current trend is largely driven by the health law, said Ana Gupte, an analyst with Sanford C. Bernstein & Co.
The newer ventures will not replace the core business of selling health coverage.
"They're very synergistic with the health-insurance [product]," Gupte said, giving insurers more tools to control medical costs while potentially increasing earnings.
In the past, buying health plans "was a really good meat-and-potatoes strategy," said Paul Kusserow, Humana's chief strategy officer. But the looming threat of new regulations means "that we have to get much more engaged in managing health for our members."
With its recent acquisitions, Humana is dipping its hand directly into patient care, gaining more control over doctors. That's what makes acquisitions such as Concentra a "two-for-one deal," Kusserow said. Concentra will continue to generate "great margins" for the company as a stand-alone business, he said, but also will give Humana a workforce of physician gatekeepers controlling access to costly services. 
Doctors' orders initiate almost all medical spending. If insurers can push physicians to more effectively manage chronic diseases such as diabetes and judiciously prescribe expensive services such as MRIs, they stand to profit.
"The ultimate goal," Kusserow said, "is going to be to teach these folks at Concentra to deal with risk" by making doctors responsible for the cost and quality of care.
The flurry of acquisitions underscores the pressures facing insurers. Years of rapidly rising prices have made it difficult to raise rates further.
"Companies have to continue to grow, and they can't keep raising rates at 20 percent a year," said Eric Coburn, a health-sector investment banker at Shattuck Hammond Partners.
Last year, rates increased 7 percent, on average, for employer-sponsored plans and as much as 20 percent for individuals, according to reports by Hewitt Associates and the Kaiser Family Foundation. (Kaiser Health News is part of the foundation.)
The overhaul's effect
Now comes the health law. As more people receive insurance under the law, insurers would welcome 15 million new customers, according to the Congressional Budget Office. But the companies worry that the rules requiring most Americans to obtain coverage will prove too weak and allow many to go uncovered, said Robert Zirkelbach, a spokesman for America's Health Insurance Plans.
That could leave insurers with slim gains, even as they face regulations that could limit profits, prohibit the practice of charging sick people higher rates, and funnel individuals and small businesses into government-created exchanges to buy policies.
Under the law, insurers must spend at least 80 percent of the premiums they collect on medical care. The final regulation, known as the medical-loss ratio rule, has turned out to be less painful for insurers than initially anticipated, because it will not count taxes and quality improvement as administrative costs.
Still, the medical-loss rules and meteoric growth in health spending make getting a better grip on costs essential for insurers.
"I've seen a big trend in getting further down the supply chain towards the point of care," said Sarah James, an insurance industry analyst at Los Angeles-based Wedbush Securities. "Everybody's looking to add on staff physicians and clinics" that can help control medical spending.
Analysts view technology investments as another way to control medical costs. Medicity and other technology investments put Aetna "closer to the actual delivery of care," said Lonny Reisman, Aetna's chief medical officer.
"Without practicing medicine," Reisman said, "we are facilitating the relationship between the doctor and the patient with the technology and services," such as a wealth of information gathered by Medicity and on-the-spot clinical guidance for doctors using ActiveHealth Management, a company Aetna bought in 2005.
Medicity has also opened a new revenue stream for Aetna, with 800 fee-paying hospital clients. Reisman said demand for those services will only increase as the health law threatens hospitals with large Medicare pay cuts if they cannot track and prove that they are providing quality services.
In a sign of Aetna's interest in future acquisitions, the company hired Charles Saunders, a physician and recent veteran of the private equity firm Warburg Pincus, in January to oversee "strategic diversification."
Other insurers are pursuing different strategies. Cigna is looking overseas and plans to begin selling comprehensive health insurance plans to individuals in China in hopes of capitalizing on a burgeoning middle class, Bill Atwell, an executive in charge of international operations, told investors March 11. The operation will roll out by the year's end, Gloria Barone Rosanio, a spokeswoman, said in an e-mail.
At home, though, the options are limited, in part because of the health law. Some analysts do not see much of a future for companies that just stick with the business of selling insurance policies.
"If you're a health plan, you either become a care delivery system or an information services company," said David Brailer, a former George W. Bush administration health official who now leads an investment firm. "The traditional business is dead."