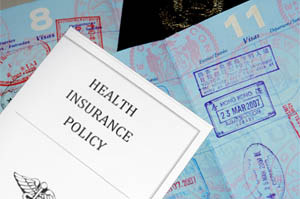 Some of the nation's largest insurers are complaining that the Obama administration isn't doing enough to ease health law requirements they say threaten their ability to sell health coverage for millions of Americans working abroad.
Unless the rules are changed, one of the insurers, Cigna, says it might move the jobs of workers who write these policies overseas to avoid the new restrictions, according to a document the insurer has given to the administration and members of Congress. About 700 Cigna employees write the policies and most are based in northern Delaware. 
At issue are policies from Cigna, Aetna and other insurers available to the more than 4 million Americans who work for months at a time in other countries, mainly for multinational companies. The coverage typically provides medical benefits for employees and their families both within and outside of the U.S.
The biggest concern, say the insurers, is a provision in the law that limits insurers' profits and administrative costs. Insurers are required to spend at least 80 percent of premium revenues on medical costs; the remainder can go toward administrative costs, such as sales commissions and profits. Plans that fail to meet the "medical-loss ratio," or MLR, must pay rebates to policyholders.
Expatriate plans are temporarily exempted from the MLR until the end of the year, but insurers, including Cigna and Aetna, have been pushing for a permanent exemption. They say the requirement fails to recognize the higher administrative costs of running expatriate health plans as a result of having to cover emergency evacuations, lining up providers in other countries and paying claims in a variety of currencies.
Unless the rule is eased, they say, the extra costs could make the expatriate business less profitable. Other requirements in the law, including one that sets minimum benefits beginning in 2014, could drive up premiums for the coverage, insurers say, prompting U.S. employers to buy policies directly from foreign insurers.
"This hampers our ability to compete in the global marketplace," Cigna spokeswoman Gloria Barone Rosanio said.
She added that the rule could prompt some employers to hire foreign nationals instead of U.S. citizens to work in other countries. That's because it would be cheaper to pay health care costs of non-U.S. workers than to buy expensive expatriate coverage, she said.
United Healthcare said the rule would limit its entry into the expatriates' business, which it is scheduled to begin this summer. 
The insurers said they've been unable to convince congressional leaders to change the health law as they have requested. They've also been talking to officials at the White House and the Department of Health and Human Services. If Cigna carried through on its threat to move jobs overseas, it would be an embarrassment to Democrats, who have been attacked by Republicans for passing the "job-killing" health care law.
"We appreciate the concerns insurers have raised," an administration official said.  The official spoke on condition of anonymity, citing the sensitivity of internal private discussions. The official added that one of the challenges resolving the issue is that expatriate benefits can include coverage for family members living in the United States who should have quality and affordable insurance.
Cigna expatriate plans have 800,000 members, more than any other U.S. insurer. Aetna has more than 400,000 expat members.
Cigna and Aetna have been focusing on increasing their international business, which includes expatriates. Analysts say the health law could hurt their strategy.
If the special exception to the medical loss rule isn't extended, "that would definitely put some constraints on [Cigna's] operating earnings and their growth," said Ana Gupte, an analyst at Sanford Bernstein & Co.
Cigna's $412 million acquisition last year of the Belgium-based Vanbreda International, accelerated Cigna's move to sell expatriate benefits to global employers, such as the World Bank, Gupte said.
Aetna bought an expatriate health plan company, Bermuda-based Goodhealth Worldwide, in 2007.
In a letter to federal regulators last year, Aetna said insurers would need at least a year to decide whether to continue offering expatriate plans if the rules were to go into full effect.
In Delaware, where Cigna's expatriate division employs 550 workers at its newly renovated Claymont offices near the Pennsylvania border, officials are getting nervous about the potential loss of jobs.
"We're concerned," said Alan Levin, Delaware's secretary of economic development. "We're only a state of 900,000 people, so 550 jobs would be a huge loss."
Levin said his department and the state insurance commissioner were both lobbying the Delaware congressional delegation to ease the expatriate rule. The insurance commissioner, Karen Weldin Stewart, is also applying to the federal health department for a waiver of the medical-loss rules that would apply to all health plans in the state.
The Delaware Economic Development Office awarded grants totaling nearly $2.4 million to Cigna last August, Levin said. However, if Cigna fails to maintain at least 470 jobs in the state for seven years, it would have to repay the money.
But, "we don't want the money back," said Levin. "We want the jobs."