CAPITOL HEIGHTS, Md. — After Dwayne Duckenfield banged his right elbow working around the house on a recent Saturday, he grew worried when the swelling didn't go down and the pain worsened.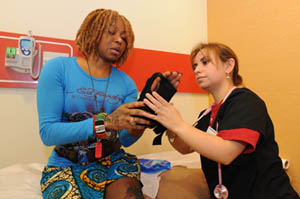 Concerned he may have broken a bone, the project manager who lives in Washington, D.C., didn't go to the nearest emergency room or wait until Monday to call his physician for an appointment. Like an increasing number of Americans looking for fast and affordable health care, he went to an urgent care facility.
Duckenfield, 41, visited Concentra Urgent Care just inside the Washington Beltway, a center that's part of the nation's largest urgent care chain. Within 75 minutes, he was examined by a physician's assistant, had an X-ray that came back negative, and was prescribed a pain medication. "This was so convenient and now I have peace of mind," he said, after paying his $25 insurance co-pay.
Across the country, an estimated 3 million patients visit these centers each week, according to the Urgent Care Association of America, a trade group based in Chicago. To meet increased demand, the number of facilities has steadily increased from 8,000 in 2008 to more than 9,200 this year, the association said. About 600 new urgent centers opened this year.
Fueling that rise are two longstanding trends — crowded emergency rooms and a lack of primary care doctors. Urgent care operators also say another factor is helping to propel business: the drive to lower costs.
Urgent care centers' fees are at least half those charged at a hospital emergency department for the same condition, although they are similar to what physicians charge for office visits.  Still the savings in ER costs are a big draw for patients without insurance, as well as insured patients facing higher out-of- pocket costs because of rising deductibles. Those lower fees have also drawn the attention of hospitals and insurers — both of which increasingly see the facilities as a way to hold down costs and boost their bottom lines.
Difficulty Finding A Primary Care Doctor
Tom Charland, the CEO of Merchant Medicine, a Minnesota consulting firm specializing in walk-in clinics, said the urgent care centers are poised to attract more patients in 2014 when the federal health law begins to expand health coverage to 32 million Americans. Finding a primary care doctor could become more difficult then, he said.
But some doctors' groups worry that increased reliance on urgent care may hurt efforts to better coordinate care and get patients into so–called "medical homes" where they have a regular physician, strategies promoted by the health law to improve quality and lower costs.
Urgent care is not as good as having a regular physician, says Dr. Glen Stream, president of the American Academy of Family Physicians. He is concerned the surge in urgent care use could lead to fewer patients having an individual physician monitoring their care. "No one really gets to know them, if they use a different urgent care each time," he said. "One of the best predictors of health outcomes is having a usual source of care where you can go for acute and chronic illnesses and develop a relationship with a doctor."
Urgent care centers typically treat a wide range of injuries and illnesses — including coughs and colds, broken bones, cuts and back pain— and do blood and urine tests, X-rays and even drug testing.  They see patients without an appointment and often are open evenings and weekends. Unlike small retail health clinics that have opened in the past decade in department stores and pharmacies and mainly employ nurse practitioners, urgent care centers usually have physicians on site.
About half of the facilities are owned by doctors, according to the urgent care association and 28 percent are hospital-owned, the American Hospital Association reports.
Humana last year became the first major insurer to get into the urgent care business when it bought Concentra, which has more than 300 centers in 40 states. "We want to make sure we have access to providers in key areas," said Paul Kusserow, Humana's chief strategy and corporate development officer.
As Humana and other insurers shift to using smaller networks of doctors and hospitals to hold down premiums, urgent care will be a vital outlet when doctors' offices are too busy, he said. Humana and other insurers have expanded the number of urgent care centers in their provider networks to reduce unnecessary ER use.
Hospitals See Role
Hospitals also are adding urgent care centers to increase admissions, and in the future they see it as a way to keep their costs down in treating patients.
"A lot of people don't have regular doctors and so this is a way of getting them into our system," said John Anderson, chief medical officer at Duke Primary Care in North Carolina. Duke University Health System has five urgent care centers — including two added in the past two years — that complement its 27 primary care physician offices. "We want to be a medical home for people, and urgent care helps fill out the niche," he said.
In addition, hospitals such as the John Muir Health System in Contra Costa, Calif., see urgent care as way to control spending, which will become important as they take steps to form an accountable care organization, a health care financing arrangement where hospitals will have an incentive to hold down costs.
While hospitals today financially benefit from seeing insured patients in their expensive ERs, under the new models of health care, they will want to see patients in the most cost-effective location, said Paul Swenson, CEO of John Muir's physician network, "We know where the world is going."
But while John Muir is considering adding to its compliment of four urgent care facilities, it's been cautious for fear of upsetting its 800 affiliated physicians. "There is a lot of concern that we will take patients away from them," Swenson said. The hospital has tried to reassure its doctors, saying urgent care centers can fill in when their offices are too busy and be a referral source for new patients.
The growth of urgent care also is changing the way doctors operate, said Stream, a family doctor in Spokane, Wash. More doctors are adding evening and weekend hours and leaving more room on schedules for same-day appointments, he said. "In that sense, the urgent care movement has been a good market pressure on primary care doctors to offer more convenient care."
Convenience was a key factor for Duckenfield when he came to Concentra, and he was not alone. The waiting room was nearly full at noon. Three people were waiting for their physical for the Maryland Transportation Department, and Prince George's County police brought in a car accident victim to test her for drugs or alcohol. Another man was there with flu symptoms. A woman was seeking treatment for her daughter with pink eye.
The center, staffed by doctors during week, has a physician's assistant on weekends. Hiep Truong, the physician's assistant working that Sunday, seemed unfazed, taking a moment between patients. "You should see us during the week, when it's really busy," he said.