Eleven years ago Bob Bennett, then a Republican senator from Utah, made a fiscal sales pitch for including prescription drugs in Medicare coverage for seniors.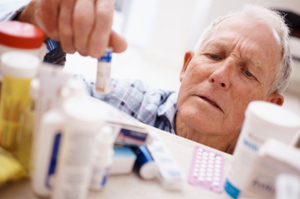 "Medicare says if you go to the hospital and run up a bill of however many tens of thousands of dollars to stay that many days, we will pay for it," he said in June 2003. "But if you take the pill that makes the hospital visit unnecessary, we will not. That clearly doesn't make sense."
Researchers at the University of Illinois and the Johns Hopkins University have made the broadest test yet of Medicare Part D prescription drug program's promise — that covering drugs would keep seniors out of the hospital.
Comparing national records from before and after 2006, when Part D kicked in, they found that drug coverage was associated with an 8 percent drop in hospital admissions and nearly as much in hospital-cost savings — an amount they calculate to be $1.5 billion a year.
But here's what they didn't find: any difference in death rates between the seniors who had access to drugs under Part D and those who didn't. They thought broader drug coverage might reduce mortality.
"It's somewhat surprising that we didn't see a mortality effect, given that we did see decreases in hospitalization," co-author Robert Kaestner, an economist at the University of Illinois at Chicago, said in an interview.
But the researchers looked only at deaths at the time. Perhaps drug coverage has a cumulative effect that wouldn't show up in mortality statistics until later, he said.
For some conditions, the fall in admissions that came with Part D coverage was striking: down 20 percent for dehydration; down 32 percent for chronic obstructive pulmonary disease; down 18 percent for congestive heart failure; down 13 percent for coronary atherosclerosis.
Previous research has also shown that better drug coverage is associated with lower hospital admissions. But the samples were smaller. Or the studies looked at changes in existing drug plans, not the difference between no coverage and full coverage, Kaestner said.
Part D's cost to taxpayers still far exceeds the savings it generates in fewer hospital visits. But the $1.5 billion in annual hospital savings associated with Part D coverage effectively reduces the expense of that particular program by 2.2 percent, said Kaestner.
In 2012, relying on previous research, the nonpartisan scorekeepers at the Congressional Budget Office said they would begin estimating this kind of savings as part of their total spending projections.