These documents, prepared by the House Committee on Ways and Means and obtained by KHN, show the maximum premiums and out-of-pocket costs low- and moderate-income people might face under the House health overhaul plan, called America's Affordable Health Choices Act.
The first chart shows how much in premiums individuals pay today and the maximum each would pay under the House bill.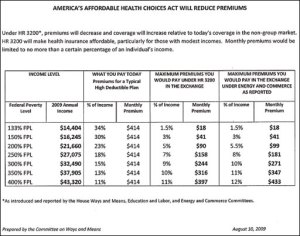 The second chart shows examples of how much in deductibles and co-insurance an individual could end up paying, and how those would compare with a typical high deductible plan and with the typical health insurance plan for federal employees.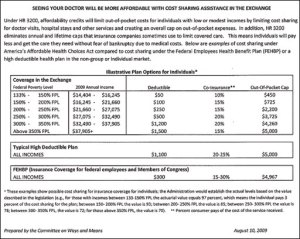 The documents only list individuals whose incomes are up to four times the federal poverty level: $43,320. These are the people who would be eligible for government subsidies.
The House bill does not limit the size of premiums for people with incomes above this level; which is why they are not included in the charts. Under the bill, no individual would have to spend more than $5,000 on out-of-pocket costs in a year. Those limits do not include money spent for premiums.