Health care advocates in Illinois are marking the two-year anniversary of the 2010 health law with an interactive map that shows how two provisions  –  expansion of Medicaid eligibility and the creation of new insurance marketplaces called exchanges – could expand coverage to the state's residents, some 13 percent of whom are currently uninsured.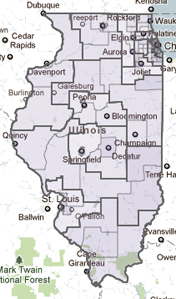 The map by Health & Disability Advocates uses data from the Census Bureau's American Community Survey to show, down to the community level, the number of residents estimated to be eligible for subsidies to help them buy coverage through the exchanges, or to enroll in Medicaid, under rules that go into effect in 2014.
An estimated 600,000 Illinois residents now earn at or below 138% of the federal poverty level, but don't qualify for Medicaid, often because they are adults with no dependent children, the group says. Only a handful of states currently cover childless adults, but the federal law expands Medicaid to include those residents. In some areas, such as Algonquin and Grafton Townships in McHenry County, the 42.8% of residents who live at or below 138% of the poverty level will become newly eligible for Medicaid, the group says.
The law also provides sliding-scale subsidies to help individuals who earn up to 400 percent of the federal poverty level — about $44,680 this year — to buy their own coverage from private insurers. The map estimates that 776,000 Illinois residents will be eligible to purchase coverage with a subsidy.
The map can be found at: visualizingreform.illinoishealthmatters.org
"While some still argue that heath care reform will do little good, this map shows concretely how many Illinoisans will be helped by health care reform and where they live," Barbara Otto,  the group's CEO says in a release announcing the website.