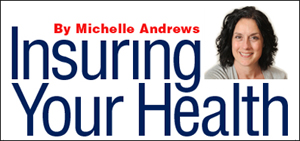 In a new KHN feature, Michelle Andrews writes about the coming changes to health care.
Please send comments or ideas for future topics to questions@kaiserhealthnews.org

Read 2010's Insuring Your Health stories.

See Andrews answer your health insurance questions via video.

Some Hospitals Turn To Post-Discharge Clinics To Help Hold Down Readmissions
December 20, 2011
A study finds that a third of adult patients discharged from a hospital don't see a physician within 30 days — and experts say this is a key reason so many of them need to come back in.
---
Coverage Of Bariatric Surgery Is Spotty For Obese Kids
December 13, 2011
Experts in pediatric obesity say that caution is warranted and that insurers shouldn't just rubber-stamp such surgery in adolescents. But they say emerging research may lead to more coverage for young people.
---
Some Companies Base Premiums On Employee's Salary
December 6, 2011
Although few employers have used this strategy, consultants say it could help many in 2014 meet new requirements in the health law.
---
Both Patients, Physicians Can Suffer When Test Results Aren't Reported
November 29, 2011
Better Coordination of patient care should help improve the delivery of test results to patients from doctors — and to doctors from thos who perform the tests.
---
N.Y. Program May Offer Model for Medical Liability Cases
November 22, 2011
Under the system, when a lawsuit is filed, a judge with expertise in medical matters becomes the point person for that case and helps broker a settlement.
---
Hospitals Offering Complementary Medical Treatment
November 15, 2011
Experts say the move comes with consumers' willingness to spend money on therapies such as acupuncture and massage and with the recognition that some can be effective.
---
Columnist Finds No Clear Path On Treatment 
November 8, 2011
After a serious bike crash in Canada, a writer returns home and finds many uncertainties in her medical options.
---
$6.8 Billion Spent Yearly On Unnecessary Medical Care
November 1, 2011 
The conclusion comes from a study that looked at procedures and prescriptions ordered by primary care doctors frequently.
---
Employer Health Plan Premiums, Deductibles Keep Rising
October 25, 2011
As they shoulder more health care expenses, worker in some plans can reduce their costs by participating in company wellness programs.
---
Helping Patients Know Their 'Medical Mind' Can Ease Uncertainty
October 18, 2011
In a new book, oncologist and New Yorker writer Jerome Groopman and his wife, endocrinologist Pamela Hartzband, encourage consumers to chart their own path when looking at treatment decisions.
---
When Fighting Cancer, Patients Often Face Hefty Bills
October 11,2011
Advances in treatment, including new drugs and high-tech procedures, can be costly, even for those with insurance.
---
Memphis Hospital Teams Up With Churches To Deliver Care
October 4, 2011
The Methodist Le Bonheur system and about 400 churches work together to make sure church members have social support when they go into the hospital and when they come out.
---
Some Doctors Refuse To Treat Kids Who Have Not Been Immunized
September 27, 2011
These pediatricians say they are worried about other patients in the waiting room, some of them too young to be immunized or with health problems that compromise their immune systems.
---
Employers Increasingly Trimming Or Cutting Benefits
September 20, 2011
The same pattern that has emerged in health insurance — employers' shifting more costs onto workers' shoulders — is occurring in disability coverage.
---
Readers Face Multiple Dilemmas About Insurance Coverage, Costs
August 23, 2011
"Insuring Your Health" columnist Michelle Andrews answers questions from readers, including someone wondering about coverage if you've been drinking, talking with your insurer about a family member's bill and preventive colonscopies.
---
Columnist Finds Herself In A Hospital Gurney – And A Different Style of Medicine
August 2, 2011
A bike accident on vacation leads to a lesson on interesting variations on U.S. treatment. 
---
New Emergency Care Programs Focus On Quality-Of-Life Issues
July 25, 2011
With training, hospital emergency department staff members can enhance their skills in pain and symptom management and improve their communication skills.
---
Health Law Bolsters Funding For In-School Clinics
July 19, 2011
At about 1,900 schools around the country, children can get checkups, vaccinations and help with medication.
---
Insurance Usually Covers Diagnosis, Treatment Of Most Sleep Problems
July 12, 2011
As awareness of the issue has increased, so has expensive testing.  
 
---
If You Drop Prices, Will They Come?
July 5, 2011
Once considered a keystone of the health overhaul, the new plans for people with medical conditions have failed, so far, to generate large enrollments.
---
Mistakes In Outpatient Care Raising Concerns
June 28, 2011
Although safety measures are often directed at hospitals, experts say physicians' offices and urgent care centers should get more attention since the bulk of medical care is delivered there.
---
Many Consumers Get Relief By Challenging Plan's Decision
June 21, 2011
GAO finds most claims problems come from billing and eligibility issues, and beneficiaries often win when they appeal.
---
Out-Of-Network Rides Can Bring Out-Of-Pocket Expenses
June 14, 2011
Consumers, who often don't have a choice of ambulance services, can be left holding the bill when insurers refuse to pay the entire cost.
---
Conn. Insurer Cuts Premiums As Industry Prepares For New Rules
June 6, 2011
The decrease, which affects 15,000 consumers will save those policyholders $259 annually, on average.
---
Freestanding Emergency Department Use Growing
May 31, 2011
Originally conceived as a way to provide care in rural areas without hospitals, these freestanding ERs are cropping up in more developed areas. 
---
Many On-The-Jobs Clinics Offer Primary Care
May 24, 2011
These workplace centers are increasingly expanding beyond job injuries to offer on-site preventive tests and screenings and health coaching.
---
Decline In Autopsies May Obscure Understanding Of Disease
May 17, 2011 

Hospitals perform the postmortem exams in only about 5 percent of patients who die. Experts fear that for others, key details about diagnosis and the effect of treatments are lost.
---
The Old Practice Of House Calls Is Returning To Some Areas
May 10, 2011
Businesses and individuals looking for convenience are contracting with services that will provide same-day medical appointments at home or office.
---
For Young Adults, Best Option Is Likely Their Parents' Plans
May 3, 2011
The health law guarantees that until the age of 26, children can stay on a family plan. There are exceptions, however, including when the young adult is offered insurance at work.
---
Some Church Groups Form Cooperatives To Cover Medical Costs
April 26, 2011
The programs are financed through monthly fees, and those revenues are divvied up and sent to members when they have have health care expenses.
---
Some Insurers Refuse Live Organ Donors Health Coverage
April 19, 2011
Live organ donors – who offer kidneys or part of their liver, lung or pancreas – are often denied coverage or charged very high premiums because insurers consider them to have a pre-existing medical.
---
Health Overhaul Could Double Community Health Centers' Caseloads
April 12, 2011
The centers, designed to help low-income and uninsured people, offer an affordable option for care, but it can also be tough to get an appointment.
---
Some Doctors Prescribe Painkillers Only After Patients Sign Contracts
April 5, 2011
Critics say the agreements, designed to help educate consumers about the dangers of opioids, invade patient privacy and damage trust.
---
Programs Work To Improve Quality Of Life For Patients With Serious Medical Problems
March 29, 2011
Very ill patients, even when not facing death, can benefit from better pain and symptom management, care coordination and help setting goals from specially trained teams, which typically include a doctor, a nurse, a social worker and a spiritual counselor.
---
Psychologists Seek to Expand Role By Prescribing Drugs
March 22, 2011
Waits for appointments with an expert can be long and psychiatrists especially are in short supply.
---
Pharmacists Expand Role To Help Educate and Coach Patients
March 15, 2011
Consumers often find it easier to get time with a pharmacist than a doctor, so drug stores are offering more outreach programs about chronic health problems.
---
Some Medical Practices Move To Monthly Membership Fees For Patients
March 8, 2011
These new plans cut out insurance policies and offer unlimited access to doctors and nurse practitioners for a modest, set fee.
---
Some Plans Cut Premiums By Eliminating Expensive Doctors, Hospitals
March 1, 2011
Insurers are either offering consumers a hefty break if they pay more out-of-pocket when they use certain high-cost providers in their network or are cutting the providers from the coverage entirely.
---
Health Law Forces Changes To Reduce Quick Readmissions
February 22, 2011
20 percent of Medicare patients are back in the hospital within 30 days, a trend that endangers patients and raises health costs.
---
Experts Seek To Simplify Medication Labels That Often Confuse Patients
February 15, 2011
Many patients do not take drugs as directed—skipping doses, taking the wrong number of pills or taking them at the wrong time of day. Poor adherence results in millions of dollars of medical expenses each year.
---
Some Doctors Dispute The Claims Of Preventive Benefits
February 8, 2011
Dartmouth researchers maintain that ordering screenings for people with no symptoms too often leads to costly treatment for people who would likely never have gotten sick.
---
Mediation Offers An Alternative to Lawsuits 
February 1, 2011
Patients seeking redress may find this option provides the same benefits as a court battle but quicker and with less emotional toll.
---
Should Infertility Treatments Be Considered Essential?
January 24, 2011

Currently, policies provide only skimpy coverage for these services, which are often expensive. But this is an issue that regulators are wrestling with as they determine what conditions should be included in plans under the health law.
---
Making End-Of-Life Decisions Is Hard On Family Members 
January 18, 2011
Few people have advance directives and even when they do, the documents often don't cover the exact situation, leaving loved ones to make critical decisions in a void.
---
Some States Have Options To Help Consumers Find Individual Health Coverage
January 11, 2011
For people who can't get insurance through work, finding a plan is often difficult. In addition to the high-risk pools that have recently generated a lot of attention, other options may be available, depending on which state a consumer lives in.
---
Insurers Sometimes Reject Neonatal Intensive Care Costs
January 4, 2011
In these specialized units for premature infants or babies with special needs, the doctors and other personnel may not be under contract with an insurer's network even though the hospital is covered.
---
Read 2010's Insuring Your Health stories.