The county with the highest health insurance premiums in the country is drafting a lawsuit against Colorado, saying the state's approval of the rates violates anti-discrimination protections in the Affordable Care Act.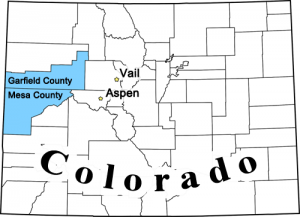 Garfield County Attorney Frank Hutfless says county commissioners told him "to prepare a lawsuit to be filed against the state, and particularly the department of insurance, the insurance commissioner and perhaps the governor."
At issue is the decision by Colorado Insurance Commissioner Marguerite Salazar to include Garfield county in the state's "resort" insurance rating area, which a Kaiser Health News report found to have the highest premiums in the U.S. The lowest-price silver plan in the rating area for a 40-year-old male is $483 a month, versus $245 a month in Denver.
Salazar says the four-county area has significantly higher costs for health care services, which justify the higher rates. Salazar was appointed by Democratic Gov. John Hickenlooper to her post in August 2013.
Garfield county's elected officials dispute that their costs are as high as the other counties in their group. They say they have little in common with neighboring counties that include the ritzy Aspen and Vail ski resorts.
The only ski area in Garfield County is a small family-oriented resort that doesn't try to compete for the global "destination skier" market like the sprawling mega-resorts in Pitkin, Eagle and Summit counties. Many of those resorts' workers live in Garfield County, which is generally more affordable. Its Glenwood Hot Springs have lured tourists since the 19th century, but in nowhere near the numbers of skiers that visit the big resorts.
Many residents are also proud that Garfield County is home to more than 10,000 active oil and gas wells, more than any Colorado county but one. Its resource-extraction tradition means it has more in common with neighboring Mesa County, which is in a different, and much less expensive, insurance rating area.
And Colorado's All Payer Claims Database suggests that Garfield's health care costs are more similar to Mesa than the three ski-resort counties it's grouped with for insurance rating purposes.
Between 2009 and 2013, the database says the total cost of care per health plan member in Garfield County was between $83 more expensive and $402 less expensive than Mesa County. In contrast, Garfield County was at least $1,125 less expensive than Pitkin County, home to Aspen, over the same period.
Still, compared to urban Denver County Garfield County is expensive. Its total cost of care was consistently at least $1,100 more expensive than Denver's from 2009-2012.
While the database is by no means comprehensive and its cost-of-care numbers are only approximations,  it's the best publicly available information on costs. Both the state Division of Insurance and the county threatening to sue it cite the database as the basis for why Colorado's rating areas are or are not fair.
Garfield County Attorney Hutfless says it's too soon to say what specific remedies he'll ask for in the lawsuit, but, "all of which (will be) directed to achieving some sort of equity for citizens in this county."
He says that although Garfield County's elected leaders are prepared to go to court, they're also open resolving their issues by other means. He expects to make a draft of the lawsuit available to the state in late March, prior to filing it in federal court.
Insurance Commissioner Salazar last week announced a new study by her office into higher health care prices and insurance premiums in Colorado's resort counties. She says she'll have results, and potential strategies for relief, in May before insurance companies have to file proposed rates for 2016.