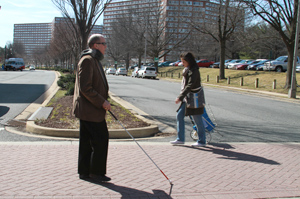 One night three years ago, Joe Hobson finished reading a book, went to sleep and woke up blind. The problem, a rare hereditary disease, forced him to give up his 20-year communications job, along with its generous health insurance. Now 63, the Arlington man is covered by Medicare, the federal program for elderly and disabled Americans.
Like many people with Medicare, Hobson would like to buy supplemental, or Medigap, insurance to help cover his out-of-pocket costs, such as co-payments and deductibles. But Medigap prices can be prohibitive for disabled beneficiaries younger than 65. The cheapest plan for such people in Northern Virginia is $338 a month, according to Brad Rothermel, an Annandale insurance agent who has helped Hobson look for a policy. That's three times the premium of a plan with much better benefits that is available to a 65-year-old. And the private insurers that offer Medigap policies are free to reject Hobson or charge him extra because of his preexisting health conditions.
Federal Medigap rules generally prohibit insurers from rejecting applicants or charging them higher premiums because of pre-existing conditions, as long as they apply within six months of turning 65 and getting Medicare coverage for doctor visits and other outpatient services, says Peter Ashkenaz, a spokesman for the federal Centers for Medicare and Medicaid Services. However, when Congress created this protection in 1992, he says, it exempted disabled Medicare beneficiaries under 65, a group that now totals 8 million people.
"There's something not right here," says Hobson, whose living expenses consume all of the income he receives under the Social Security program for disabled people.
People such as Hobson have good reasons to be concerned, says Bonnie Burns, a policy specialist with California Health Advocates, a nonprofit organization. She is also a member of a federally established working group that updates Medigap rules when Congress makes changes.
Because there is no annual cap on Medicare out-of-pocket costs, Burns says there's no limit to how much beneficiaries might be required to pay if they get very sick or have a very expensive medical condition. "It makes sense to buy Medigap insurance to mitigate that possibility," she says.
Last year's federal health-care overhaul does not address this issue. A provision to provide disabled Medicare beneficiaries better coverage was dropped from the legislation during congressional negotiations because it would have increased Medicare costs, according to a House Democratic congressional aide.
In the absence of federal rules, 29 states, including Maryland, require insurers to sell at least one kind of Medigap plan to anyone who applies, but Virginia and the District are not among them. Of the states that guarantee Medigap plans, most allow companies to charge higher rates to disabled applicants younger than 65. But if they apply for a Medigap policy when they turn 65, insurers cannot charge higher premiums based on preexisting health conditions.
"When you are disabled and 65, you're the same as any other Medicare beneficiary," says Leta Blank, the Montgomery County director of Maryland's Senior Health Insurance Assistance Program.
As for Hobson, he isn't easily discouraged. A volunteer with the National Federation of the Blind, he has helped organize the Virginia chapter's convention. He is passionate about "talking" computers and other adaptive technology for blind people.
Last fall, Hobson sought help from John Glowacky and Cedar Dvorin, counselors at the Virginia Insurance Counseling Assistance Project, a program for Virginians with Medicare. Hobson's income and assets disqualify him for Medicaid, the insurance program for low-income people, Glowacky says.
He could get a Medicare Advantage policy that might cover some of the expenses traditional Medicare does not, but these private, managed-care plans require patients to go to health-care providers who are part of the plan's network or pay extra for out-of-network care. Glowacky says most of his clients are reluctant to end a long-term relationship with a doctor.
Hobson could go without additional insurance, "but if something catastrophic happens, you're on the hook," Glowacky says. "You don't buy homeowners insurance the day your house burns down."
Hobson decided to take that gamble and hope for the best, until his 65th birthday in July 2012. "When I turn 65," he says, "I will be able to get a Medicare supplemental plan with a simple phone call."
Susan Jaffe can be reached at jaffe.khn@gmail.com