President Barack Obama, who was re-elected with strong support from the Latino community, is in California today and will endorse a plan that focuses on getting Latino Americans signed up for coverage under his health care law.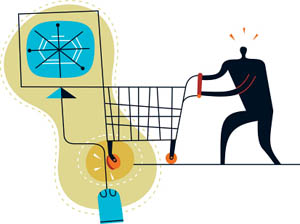 In remarks to the news media, slated to be given in San Jose, the president will lay out his strategy for enrolling at least 7 million Americans in the new online health insurance marketplaces in 2014. That plan hinges on Latinos signing up for coverage — especially the young and healthy, according to senior administration officials.
It's part of a strategy to make sure that premiums are kept as low as possible. Sicker people are likely to enroll in the marketplaces, also known as exchanges, as soon as coverage becomes available. Young and healthy people, who may not see the need for health insurance, may take more convincing. But if they hold back, the risk pool will be made up of sicker people with their higher health care costs, and premiums could skyrocket.
The White House says that 2.7 million young and healthy Americans need to enroll in the first year to keep premiums affordable. And one-third of them live in just three states: Texas, Florida and California, all of which have large Latino populations.
Of the 6 million people in California who are expected to shop for insurance in the state's exchange, at least 1.3 million are Spanish speakers and are eligible for a subsidy to help pay for health insurance.
California, according to the White House, is already emerging as the model for a successful outreach campaign.
The California Endowment, a private health care foundation based in Los Angeles, has made Latinos a key part of its $225 million enrollment campaign. The foundation has teamed up with the three largest Hispanic media organizations in the state — Telemundo, Univision and impreMedia (which publishes La Opinion, La Prensa and El Diario, among other news outlets).
All three media organizations will deploy a broad arsenal to get out the message, using television, radio, mobile platforms and the Web. "They're going to meet nearly 100 percent of the target Hispanic families," a senior administration official predicted during Thursday's background briefing, adding that "could be replicated" in other states.
The White House estimates that 10.2 million uninsured Latinos will be newly eligible for some sort of coverage under the Affordable Care Act.
Only people living in the country legally are allowed to buy on the exchanges.