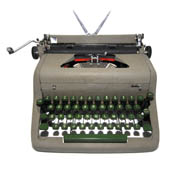 Letters to the Editor is a periodic KHN feature. We welcome all comments and will publish a selection. We will edit for space, and we require full names.
Stories that drew reader reaction included a profile of patient safety advocate Regina Holliday; a story about that gap that often prevents cancer patients from getting rehabilitation services; an interview with the CEO of the American College of Nurse Practitioners; coverage of San Diego Hospice's bankruptcy; and a piece about a fight brewing in Washington, D.C., over nurse-staffing issues.    
Here's a sampling of the responses to Activist Ignites A Movement For Patients Through Art And Story (Barr, 2/22):
Peggy Zuckerman, Society for Participatory Medicine, Long Beach, Calif.
I attended Regina Holliday's "unconference" last year, which was an amazing gathering of a wide mix of patients, physicians, caregivers, writers, IT people, pharmaceutical representatives, nurses and more. All we had in common was the same burning desire that compels Regina to her great and creative effort — to empower patients to receive better care. … Too many times the health care world …  is convoluted, filled with miscommunication and missed opportunities. Yet there is the potential for immediate and dramatic improvement with the use of the great resource that Regina and so many others provide — the patient and his experience. The movement to empower the patient is not this year's bureaucratic fad, or a way to divert attention from cost issues. It is the start of a wholesale change in how we deliver care, provide service and create new medicines and therapies.
Richard C. "Dick" Hall, Norman, Okla.
We need to change the word "patient" to "customer" in our dialogue about health care. That might require health care delivery people to go to customer service school!
Another reader offered this comment regarding Cancer Rehab Begins To Bridge A Gap For Patients (Gotbaum, 2/18):
Jenny Hastreiter, physical therapist, Rice Lake, Wis.
It is so true that cancer survivors need rehab. How is it that if you get your knee replaced you automatically get therapy. But if you have a double mastectomy and chemotherapy, our system has to think twice before therapy is provided. Thanks for getting the word out. 
KHN's interview, Nurse Practitioners Push To Help Care For Health Law's Newly Insured (Tran, 2/20), drew these reactions:
Ann Campbell, Naples, Fla.
I am a retired registered nurse with experience in a variety of health care settings. I think that nurse practitioners are the answer to the shortage of primary care providers — in rural health clinics, hospice care and long-term care facilities for sure, and in other places where primary care is needed. I'm happy with my physician/nurse practitioner team and I would be just as happy to have the nurse practitioner in sole charge of my primary care. It is sad that physicians are so insecure that they are unwilling to share the responsibility of patient care with an educated, experienced, certified and otherwise qualified [nurse practitioner]. The community is the loser.
Reid Blackwelder, MD, President-elect, American Academy of Family Physicians
The American Academy of Family Physicians agrees there is an increased demand for primary care services as a result of the Affordable Care Act. We will need primary care physicians, nurse practitioners, physician assistants and others to meet this increased demand.

The AAFP advocates for new delivery models that move away from fragmented care and deploy collaborative, physician-led teams of health care professionals. In such collaborative relationships the family physician and NP work together, maximizing their individual talents and skills, each practicing to the fullest extent of their license. Research shows that the best care is achieved when the ratio of NPs to physicians is about four to one. This ratio provides a physician-led team to everyone, and fills the primary care shortage.  

As to the studies Hebert cited, a majority of them looked at patients who had been first diagnosed by a physician and placed on an established treatment protocol. Then, NPs assumed responsibility for carrying out that treatment plan and performed very well. Moreover, many of these studies were conducted in collaborative practice environments. … The differences in education and training between a family physician and nurse practitioner are significant and important as well. A family physician will complete a standardized 21,700 hours of education and clinical training compared to an unstandardized 5,350 for a NP.

NPs are a critical part of our health care system. Their roles and responsibilities should be expanded through physician-led teams. However, they are not "equivalent to" or "a replacement for" primary care physicians.
Another story, D.C. Hospitals And Nurses Fight Over Staffing Ratios (Schultz, 2/22),  triggered these comments: 
Carmel Ferguson, Darien, Conn.
As a registered nurse for 30 years, I have had a great deal of experience with the impact of nurse-patient ratios on patient care. I propose that nurses should not be providing custodial care to patients but be available to perform their job-specific activities. Instead of looking at the cost of nursing (which is essential to the care of patients), [we should] examine the costs of administration within the institution. I once heard that for every dollar spent on health care, 25 cents is spent on administrative costs.
Mary Petrella, Sacramento, Calif.
I have worked in a California neonatal intensive care unit for the past seven years. In the beginning of my career, we did not have the tight nurse-to-patient ratios that we have now, and it was very difficult to complete tasks in a timely manner or work with the families in teaching the care of their sick infant. With the recent demands placed on our institution with regards to documentation in real time (within 10 minutes) I cannot imagine how difficult it would be to complete these tasks with additional patients. I must say, though, that we are an all-registered nurse staff and do not have any ancillary staff to assist us with labs, IV's, feedings, vitals, and other things, as I have seen in other facilities.
Rosemary Eileen McHugh, MD, MBA, Chicago
As a family physician, I am in full support of the nurses. Patient care is very important. Nurses need to have time to do patient care. Nurses are so important to getting good outcomes for patients. … I have noticed that since for-profit medicine has come to medical care, the for-profit business sector has been ruthless in cutting patient care costs. I believe it is unethical to be making profits on nurses and patients. … Hospitals do not have enough respect for their nurses and want to cut corners at the expense of wearing out the nurses that they do have, in my view. I have noticed that nursing homes are very short-staffed by nurses as well. I ask Congress to take the side of the nurses, because they care about their patients.
Finally, a reader offered these thoughts in response to San Diego Hospice Files For Bankruptcy (Dotinga, 2/7):
Joanne Lynn, MD, Altarum Institute Center for Elder Care and Advanced Illness, Washington, D.C.
The story about San Diego Hospice filing for bankruptcy protection uses the phrase 'had more than six months to live.' I'd call on readers and writers to think deeply about that phrase. The hospice benefit requires that a physician certify that the patient is likely to die within six months. Nowhere in regulation or law has the meaning of that phrase been made clear. If I have 100 people who just today became eligible for hospice, how many of them should be alive in six months? Is it 49 (just more likely to die than to survive: 50%+), or 10 (90% likely), or 1 (virtually certain)? This sounds to many people like debating over "mere statistics" but it is not. If one takes the 50%+ criterion, you will enroll 1000 times more patients than at the "virtually certain" level – and you will enroll them much longer – and those who survive will often live more than a year (even though they are in a group that continues to have "less than 6 months to live, on average." These fundamental facts about prognosis have not been honestly dealt with by the government or the press. Probably, we need a different criterion, and we need to address the complicated interface between long-term care, regular medical care, and hospice. San Diego Hospice may have been overly relaxed about this issue, but it is not a simple error on their part but a fundamental flaw in how we think about the predictability of the timing of dying and its relationship to highly supportive care.