As states are setting up their online health insurance marketplaces, officials are watching for look-alike websites that can lead consumers to be the victims of fraud or simply, confusion.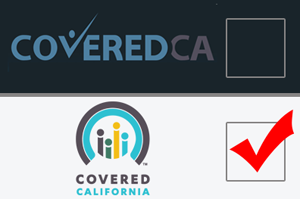 States are on the lookout for websites created by interest groups, private insurance companies and sometimes scammers that have similar web addresses and the appearances of the official state exchange websites. Officials are intervening in some cases and trying to make sure consumers are able to spot a fake site before they give out private information.
"These exchanges could range from deceptive but relatively benign marketing devices for legitimate insurance companies to malicious devices that are designed to steal your identity or insurance information," said James Quiggle, communications director for the Coalition Against Insurance Fraud.
In California, for example, typing in Coveredcalifornia.com takes a user to an informational website, with a fine print disclaimer that it is not the state-run site Coveredca.com. State insurance officials monitor the website — run by the Health Exchange Consulting group as a source of information on the state exchange — because consumers may easily type in the wrong web address. Because the site is not being used for commercial purposes, however, the state has not interfered.
"We have been monitoring various sites to make sure they are not doing anything illegal or misrepresenting themselves as an agent of Covered California," said Larry Hicks, spokesperson for the state's exchange. "We do periodic searches and domain searches to see what pops up."
Pennsylvania insurance officials intervened in July when a private insurance company welcomed consumers to the "Pennsylvania Health Exchange" with the state seal in the corner. The company took the website down immediately and apologized.
"We believe it was not done in a malicious manner," said Melissa Fox, spokesperson for the Pennsylvania Insurance Department. "We do have an enforcement bureau to make sure that the folks that are selling, soliciting and negotiating insurance are complying with regulations."
But the agency does take tips from consumers on top of their own monitoring.
The new state marketplaces, also called exchanges, were mandated by the federal health law and will open in every state on Oct. 1. They will allow consumers to compare insurance options available to them and choose a policy, akin to purchasing a plane ticket online. The application process, however, will be intensive, and ask for personal information such as Social Security numbers, employment information and tax records. 
Sixteen states and the District of Columbia are creating their own marketplaces while the remaining states are defaulting to the federal government to run their exchange. Healthcare.gov is the administration's main hub for information and purchasing options for the federal exchanges.
Experts suggest that to avoid confusion, consumers first head to Healthcare.gov. On that site, they can find out if they will be using the federal exchange or they can get the link to their individual state's exchange.
Consumers should look out for sites with little information or graphics or those that appear to have the sole purpose of getting individuals to sign up, said Quiggle. They should also be wary of providing information that seems unlikely to be needed to connect with the buying an insurance plan.
If they see something odd, consumers should notify their state insurance departments.
"Consumers have a responsibility to pay very close attention to the communications and alerts by the exchanges so they are certain of the identity of their site, whether it's a federal or state exchange," Quiggle said.  "Know just what your exchange site is supposed to ask and what information you need in order to complete the transaction."
Shortly after the law was enacted in 2010, Department of Health and Human Services Secretary Kathleen Sebelius sent a letter to state insurance commissioners and attorneys general warning of scam artists who "may be using the passage of these historic reforms as an opportunity to confuse and defraud the public."
"The potential for fake exchanges to rear up is very serious and real," said Quiggle.
He said scam artists could prey on consumers' lack of experience in purchasing insurance and on the confusion accompanying the inauguration of the exchanges to lure people to a website that looks like the real thing.
"Deceptive websites have enrollment engines that ask for your personal information including credit card and other health identifiers that form the core of identity theft," Quiggle said. "They also might try to install malware on your website to steal sensitive information on the fly."
Eight percent of medical identity theft occurs because consumers give their personal health information, such as blood type or medical history, to a fake or "spoofed" website, according to Bill Barr, development coordinator for the Medical Identity Fraud Alliance.
Scammers can take this information, pair it with a false license number, and sell your identity on the black market, Barr said. It is often difficult to tell which websites are fake, he added.
"These spoofed websites can be very convincing, scammers often copy from the real website," Barr said.