LOUISVILLE — This city of 570,000 people is generally recognized as the home of the Kentucky Derby, mint juleps and bourbon. But few outsiders know it also hosts the largest concentration of nursing-home and extended-care companies in the nation.
The city didn't start out with a central plan to win over the long-term care industry, says Ted Smith, Louisville's director of economic development and innovation. He attributes the growth, which helped spark the city's turnaround, to one of the buzz phrases in urban economic development: clustering.
The home-grown company was Humana, which has been headquartered in Louisville for a quarter century. As its influence grew, the health insurance giant created spinoffs and attracted like-minded businesses, including a growing number of companies dealing with long-term care.
Among the long-term care companies with headquarters here now are at least seven key players: Kindred Healthcare (the nation's single largest operator of extended-care facilities), Trilogy Health Services, Atria Senior Living Group, Elmcroft Senior Living, ResCare, and Signature.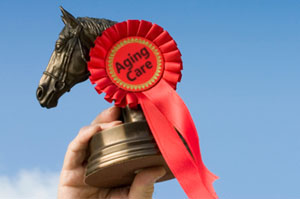 These big names have attracted related firms such as RecoverCare, which supplies medical equipment for aging patients, PharMerica, a pharmaceutical supply company, and small innovators, working on a variety of products and conveniences for the growing number of aging Americans.
In a recent commentary, Mayor Greg Fischer said the city's nursing home, assisted living, home health and Medicare management companies employ more than 4,000 people and produce $28 billion in revenue. "Add to this a skilled workforce, the presence of world-class suppliers, ground-breaking research and firms catering to the lifestyle changes of an aging demographic, and you have a key are of economic growth for the city and the nation," he wrote.
Those companies claim nationwide revenues of $44 billion, opening 350 jobs in the last year alone, according to Kelly Armstrong, economic development director of the Chamber of Commerce's Lifelong Wellness & Aging Care initiative.
"It's been an evolution," says Christian Furman, a gerontologist at the University of Louisville medical school, who noted that the movement helped spur the addition of a geriatrics fellowship program at the university.
"What we ended up with was, first, luck of the draw, good talent, people who like each other and maybe most important people who were very good at facilities administration," says Vickie Yates Brown, ht the president and CEO of Nucleus. Nucleus was created by the University of Louisville in 2008 to help launch innovative health and high-tech industries, many on its own downtown land. "Slowly, everybody started noting there was this niche area incubating, growing," Brown says.
One of the key moves was luring Signature Health Care, operates 73 long-term care facilities in seven states, away from South Florida. The enticement of up to $4 million of corporate income tax credits over 10 years helped, but CEO Joe Steier says "access to talent was most important. There's an incredible amount of expertise here."
The clincher, he says, was "the whole alignment of public and private support including the University of Louisville that has made the city into a national and international center for aging care companies." Steier added that every year at least 20 new start-up companies are created in the aging field in Louisville.
One of those is InnovateLTC (for long-term care), headed by John Reinhart, who came home to Louisville in 2010 to work for Signature when the company relocated. Reinhart, whose father was a nursing home administrator, has been seeking what he calls "disruptive" innovations-everything from a shock-absorbent floor covering to protect elderly people from breaking bones during a fall to a Dutch-developed walking and balancing device.
InnovateLTC is financed by Nucleus and Signature. Aside from identifying and market-testing aging care devices and service procedures, he has joined with a local venture capital group to raise $25 million to help aging care inventors launch their products.
Reinhart and his band of geriatric innovators like to say they're readying themselves for the "silver tsunami" as baby boomers hit retirement age.
"We have 16,000 nursing homes in the U.S. with 1.6 million beds, but we're looking at 71 to 75 million boomers who either hate the perception or the reality of what they see in conventional aging care services and nursing homes," he notes. That perception is rattling the nursing home industry across the country.
A report by the Ohio-based architecture and health group Ideas Institute makes the same argument, emphasizing that the emerging world of aging care will include gardening, artists' and musicians' studio and home-like living rooms and bedrooms — if they want to capture baby boomers' dollars.
Similar movements are underway from New England to California. While he's not connected with it, Reinhart points to a new $40 million renovation of Louisville's largest continuing-care facility, the 82-acre Masonic Homes of Kentucky, originally designed by Frederick Law Olmsted on the grounds of what was a residence for widows and orphans just after the Civil War.
Lori Hess, Masonic's executive director, regularly takes visitors through the main building. There are no standard alarm lights in the carpeted hallways; instead, patients can call caregivers on cell phones. In addition to dining rooms there are café bars, and residents can pick the times they'd like to eat and bathe.
"What we're aiming for is resident-directed service instead of traditional care-giver directed programs," she says, and adds that extended-care facilities that do not make that change may not survive.
Hess predicts the next wave of patient-clients to demand more innovation and amenities. "They expect a private room. They expect to have Wi-Fi in the room. They expect to have cable TV. A lot of facilities can't provide that, or they don't have the money."
"You have to plan for that, but a lot of facilities don't have that vision. They haven't thought through that. You have to have that forethought," Hess says.