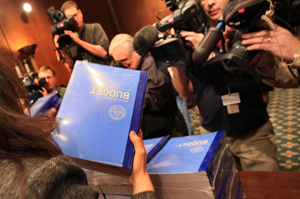 Critics quickly pounced on President Barack Obama's proposal to head off scheduled cuts in Medicare payments to doctors, saying his funding method would cause serious problems.
In his fiscal 2012 budget plan released Monday, Obama proposed a two-year, $54 billion solution to stop the payment cuts, which otherwise would go into effect Jan. 1. To finance what insiders call the "doc fix," the president would reduce waste, fraud and abuse and draw on savings from a variety of sources, including the states, drug makers – even power wheelchair retailers.
The president of the American Medical Association, Dr. Cecil Wilson, praised Obama's proposal, saying it would stop "devastating cuts for another two years, which is important for providing stability in the Medicare system while a permanent solution is enacted."
But some state officials complained about the impact on Medicaid, the state-federal health program for the poor and disabled. Obama's plan would cut $18.4 billion in federal Medicaid funding by reducing the amount that states could tax providers, such as hospitals, to help finance Medicaid.
Such a restriction on provider taxes would reduce the amount that states could collect in taxes and spend on Medicaid. That, in turn, would lower the amount that the federal government would have to put up to match the state funds.
With lower provider taxes, states would be able to "extract less from the federal government," explains Edwin Park of the nonprofit Center on Budget and Policy Priorities.
Obama, in trying to solve the doctors' payment problem, also proposed steps to increase the use of generic drugs. That would make drug purchases for federally funded programs less expensive. But the Pharmaceutical Research and Manufacturers of America, the drug industry's main trade group, said the proposal would hurt the industry's ability to innovate.
On the Medicaid provider tax issue, Joanne Lindsay, a spokeswoman for the Colorado Medicaid agency, said her state's levies on hospitals help raise money to pay for coverage of more uninsured people.
In a press conference Monday, Medicare administrator Donald Berwick sought to reassure states, which already are struggling with Medicaid costs. He pointed out that the health overhaul law will provide more funding for Medicaid before the states feel the impact of provider tax restrictions, which would begin in 2015.
Some analysts predicted the payment fix would get little traction on Capitol Hill as lawmakers focus on the broader problem of finding ways to cut the budget and reduce the deficit.
"I don't think anything meaningful will come from any of this," said Gordon Wheeler, associate executive director for public affairs at the American College of Emergency Physicians. "The intensity of the debate right now is on the debt and the deficit."
Obama's budget cutters also found savings in smaller nooks, too. The budget says Medicare will save $240 million over 10 years by implementing "prepayment review" before buying power wheelchairs for patients.
That's potentially bad news for the Scooter Store, a motorized wheelchair retailer based in New Braunfels, Texas. Kim Ross, a consultant who works with physician groups and the retailer, says Medicare already routinely denies orders for the power chairs, forcing the company and patients into a long and costly appeals process.
Also, the administration will divert some of the fees it plans to levy on doctors and hospitals that fail to adopt electronic health records to cover the cost of physician services. And hospitals will sacrifice some funding in 2021.
Congress has almost always stepped in to stop scheduled payment cuts called for by a Medicare payment formula known as the "sustainable growth rate," or SGR. Last year, for example, Congress overrode payment cuts five times, finally passing a 13-month fix in December.
The Obama administration included a broader change to doctors' payments in its first two budgets, for the 2010 and 2011 fiscal years, but did not offer specific ways to pay for it. A health department budget document released last February called it a step to "promote more honest and transparent budgeting." At that time, that administration was wooing the American Medical Association to support its signature health overhaul.
The issue has widespread political implications. Physicians threaten to stop seeing Medicare patients if reimbursement are cut. Seniors, a powerful voting bloc, fight back against any Medicare reductions. And Obama and Democrats are already on the defensive after cutting more than $450 billion over the next decade as part of the health law.
Rep. Michael Burgess, R-Texas, said the Obama administration has "no credibility" on the Medicare physician payment issue because he did not put a permanent fix in the sweeping health care law.
"He has plenty of opportunity to help fix the sustainable growth rate formula (which determines doctor payments) and he chose not to," said Burgess, who is a physician.