Medicare is sparing 5,300 mid-sized physicians groups from the first phase of the government's effort to pay doctors based on the quality of care.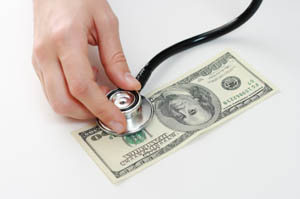 Medicare had originally planned to apply the "value-based payment modifier" to medical groups of 25 or more professionals, starting in January 2015 but based on physician performance during 2013. Doctors that did extremely well or very poorly on the quality measures would see their reimbursements altered.
But Medicare changed the plan to only include medical groups of 100 or more practitioners in the initial rollout. That original plan would have affected 6,400 groups around the country; the new approach will only involve 1,100 groups, according to Medicare.
Under the health care law, the new system is required to apply to all doctors by the start of 2017. This one of the trickiest and politically loaded parts of Medicare's effort to shift away from paying for the volume of services and toward the quality of care.
In a letter to the Centers for Medicare & Medicaid Services, the American Medical Association wrote that it "is not convinced that it will ever be possible to construct a modifier that is valid for all specialties at the individual physician level." The AMA urged the government to limit the initial phase of the program to groups with more than 100 doctors.
In its final rule published Thursday, Medicare agreed that "it would be reasonable to focus on groups with 100 or more eligible professionals before expanding the application of the value-based payment modifier to more groups." However, Medicare stood firm that the size of the group should be determined not just by counting the number of doctors, but also dentists, chiropractors, nurses, social workers, psychologists, physical and speech therapists, physician assistants, dieticians and nutritionists. (See the full list of eligible professionals here.)
Medicare so far is not backing away from eventually rolling out the value payment system to individual doctors. "We want to emphasize," CMS wrote, "that in future rulemaking we anticipate proposing for smaller groups and for individual physicians a value-based payment modifier structure similar to the policies we are adopting for groups of physicians of 100 or more eligible professionals."