The holiday shopping season seems to start earlier every year.  This year, Medicare's open enrollment season also begins – and ends – earlier than ever.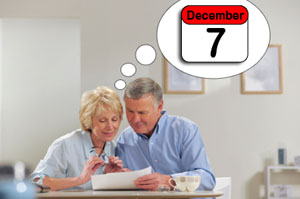 The annual enrollment period for Medicare Advantage and prescription drug benefit plans starts Saturday, rather than in mid-November as in recent years. The deadline for enrollment has also been pushed up, from Dec. 31 to Dec. 7.
One in four beneficiaries has a Medicare Advantage plan, and seniors who want to continue in their existing plans don't have to do anything. But those who want to switch to a different drug or Medicare Advantage plan need to act by Dec. 7.
The new deadline is a cause for concern, said Medicare Rights Center President Joe Baker, "because people have developed a habit of doing it by the end of the year," and many tend to procrastinate. "Now, we recommend that people get it done by Thanksgiving, rather than Christmas."
Operators on MRC's Medicare helpline, which handles 12,000 calls each year, have asked callers whether they're aware of the new dates, and most people were not, Baker said. A survey by Opinion Research Corporation for PlanPrescriber, an online insurance comparison tool and seller, found that 65 percent of 475 seniors enrolled in Medicare's Part D prescription drug program were unaware of the altered timeline.
That telephone survey was conducted between July 28 and Aug. 29, however, and with the flood of mailings and TV advertisements now under way, "we expect that people will be pretty aware," said Nicole Duritz, a vice president with AARP.
The change was mandated by the 2010 health law "in order to give people more time to choose a plan and to permit a smoother transition to their new plan," Tony Salters, a spokesman for the Centers for Medicare and Medicaid Services, said in an email. Beneficiaries now have seven weeks, rather than six, to decide on plans, and "the new time frame should better ensure that people have their new membership cards in hand at the beginning of the year." With earlier processing, beneficiaries can start coverage without interruption on Jan. 1.
There is no new leeway, however, for most people who miss the deadline. They will have to wait a full year before they can change their selections.
"The date change was mandated by law, and we are conducting a wide outreach effort to assure that individuals are aware of the timing to make changes to their coverage," Salters wrote. CMS and the Department of Health and Human Services are coordinating 150 events, complementing publicity efforts by MRC, AARP and the plan providers.
An exception to the new deadlines is that beneficiaries who switch to a five-star Medicare Advantage plan can do so at any time during the year.
The star rating, which is determined by CMS, is based on rates of hospital readmission, complaints and other quality factors. With the star system revamped this year, and price changes expected in many plans, officials encouraged Medicare beneficiaries to thoroughly review their options.
"Whether or not you're thrilled with your Medicare plan, take the time to evaluate it, given potential changes in your health status, primary doctor and other things," AARP's Duritz said, adding that the AARP encourages Medicare beneficiaries to look at coverage, cost and customer service when deciding on plans. The organization will be holding events across the country during the enrollment period, with an online workshop scheduled for Nov. 17.
More information for consumers, including a description of this year's deadlines and plan comparisons, are available from CMS at www.medicare.gov.