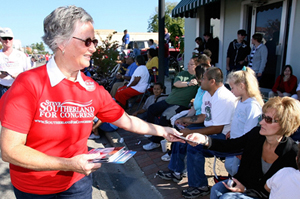 DOWLING PARK, Fla. – Until this spring, lifelong Democrat Carolyn Land never had a second thought about voting for Rep. Allen Boyd, a Democrat who has represented her area since 1997.
But the day after Boyd cast his vote on March 21 for the new health care overhaul law, Land, 65, got out of her La-Z-Boy, switched her registration to Republican and began stumping for Boyd's Republican challenger, Steve Southerland. The law "cut $500 billion from Medicare," she complained. "Right now, I can see a doctor when I need to, but I'm afraid I won't if that happens. I foresee a long wait."
As emotions run high over the law, anger and fear about its impact on Medicare – whether founded or not – could be a deciding factor in some particularly close congressional races, especially in areas where there are large numbers of seniors, say political analysts such as Robert Blendon, professor of health policy and political analysis at the Harvard School of Public Health. "It could make a difference in any one of these races," he said.
Related Content
Republican candidates across the country are pummeling Democrats with the claim that the new law would gut the program by cutting $500 billion. Democrats accuse Republicans of distorting the truth: they say the law will only slow spending, at the expense of hospitals and insurers – not seniors. They say proposals by influential Rep. Paul Ryan, R-Wis., to turn Medicare into a voucher program would destroy it. Seniors overwhelmingly oppose the voucher idea, a Pew Research/National Journal poll conducted in early September found.
In reality, while the new law will save the government $533 billion over 10 years, Medicare spending will continue to grow annually, at about 5.5 percent instead of 6.8 percent, based on Congressional Budget Office spending data. Moreover, once new spending on Medicare beneficiaries is accounted for, the total reduction is $428 billion, according to the CBO.
Many seniors appear to trust Republicans to protect Medicare. A March CNN/Opinion Research poll asked which party would do a better job of dealing with Medicare, and 48 percent of voters over 65 sided with Republicans, compared to 44 percent who chose Democrats. The poll had a margin of error of 5.5. percentage points.
"Seniors are a tough audience for Democrats," said John Rother, executive vice president at the seniors group AARP, which supported the overhaul law. "This has given Republicans a way to talk about positioning themselves as defenders of Medicare, which is quite unusual."
Senior Vote Is Key
The seniors vote will be key in 46 Democratic-held House seats The Cook Political Report recently classified as "toss-ups," meaning they could flip to the GOP. That includes the race between Boyd and Southerland in Florida's panhandle.
Notably, 28 of Cook's toss-up races – more than half – are in districts that are grayer than average. While voting by the under-65 crowd always tends to drop off in mid-term congressional elections, senior turnout remains constant, making them a coveted group.
Democrats emphasize that the new law will benefit Medicare participants by giving them a free annual wellness doctor's visit starting next year, and by improving the prescription drug benefit.
How The New Health Law Affects Medicare
The government saves more than $500 billion over 10 years, mainly from slowing the growth of payments to medical providers ($219 billion) and reductions in spending on Medicare Advantage health plans ($136 billion). But spending will continue to grow annually, at about 5.5 percent instead of 6.8 percent.
New Medicare spending will pay for seniors' free annual wellness doctor visits starting next year, and improved prescription drug coverage. Factoring in these benefits, the total reduction in Medicare spending will be $428 billion.
SOURCES: Congressional Budget Office, health law
Republicans such as Southerland argue that lower payments to physicians may drive some doctors out of the program or out of business, just when more people will need appointments. The CBO estimates that 32 million more nonelderly people eventually will have insurance as a result of the new law, and Land worries that she will be competing with those people for access to medical care. Some Democrats, including Boyd, are fighting back, saying Republicans are the real enemy of Medicare. The Democratic Senatorial Campaign Committee this summer released a list of nine Republican Senate candidates "who want to end Medicare as we know it," linking some to Ryan's Medicare ideas.
More than $219 billion of the savings are in payments to hospitals and other medical providers. Another $136 billion comes from reducing payments to private Medicare Advantage health plans, through which about one-quarter of seniors get Medicare benefits. Medicare has been paying the plans on average 14 percent more than it spends on seniors and the disabled who use the traditional government fee-for-service program, a funding gap Democrats want to eliminate.
Across the country, Republicans are taking the fight to the Democrats:
The National Republican Congressional Committee has run ads accusing freshman Rep. Mark Schauer, D-Mich., of "trying to hide his vote to cut $500 billion from Medicare. Let's save Medicare and cut Schauer." Schauer, in a toss-up race with Republican Tim Walberg, says doing nothing would have jeopardized the program's future.
In Illinois, GOP House candidate Adam Kinzinger is dueling Democratic Rep. Deborah Halvorson over senior issues in a close race southwest of Chicago, where nearly 15 percent of the population is over 65. Halvorson claims Kinzinger wants to privatize Social Security and raise the retirement age. He says the attacks "attempt to scare senior citizens and shift their attention from the fact that Debbie Halvorson voted earlier this year to cut $500 billion from Medicare."
Joe Miller, the Republican Senate candidate in Alaska, told AARP Alaska that fewer doctors will want to practice: "We're already paying so little that many doctors don't want to continue to provide services."
The conservative seniors group 60 Plus, meanwhile, says it has spent $7 million on television ads in Boyd's district and in 14 other districts in Arizona, Florida, Ohio, Pennsylvania, Tennessee, Washington and Wisconsin. In one Florida ad, seniors make the case that Boyd "betrayed" older Americans. "This November, we'll remember," says one.
'What's Going To Be Left' 
Like many other Democrats, Boyd is punching back. He has accused Southerland of "spreading false information and of once calling Medicare a 'train wreck,'" a characterization Southerland says reflected only his concerns about the program's future financial health.
Democrats will need to let people know how the law helps Medicare beneficiaries, said Ron Pollack, head of the consumer group Families USA, which pushed for the new law.
Peter and Cindy Anderson of Orlando aren't convinced. The two Republicans are so concerned about future Medicare benefits that they are loading up on surgeries now, before they become eligible, Peter said. Cindy, 61, had planned on waiting until Medicare kicked in before undergoing a knee replacement, but she's moved the surgery to this year and is urging her doctor to do her other knee quickly.
"By the time we get there, what's going to be left?" her husband said. "What procedures will we be told are no longer justifiable for our age because of the financial condition of Medicare?"
Marilyn Werber Serafini is the Kaiser Family Foundation's Robin Toner Distinguished Fellow based at Kaiser Health News. The fellowship honors the late Robin Toner, The New York Times' long-time health and politics reporter whose work often framed the public debate on health issues. KHN is an editorially independent program of the foundation.