ST. PAUL, Minn. — The federal government has awarded Minnesota a $26 million grant to help fund the creation of the state insurance exchange — a key part of the federal health care law.
The grant comes to a state government bitterly divided over carrying out federal health reform.  Some members of Minnesota's Republican-led legislature vehemently oppose any program connected with President Barack Obama's health care overhaul, including a state exchange. Legislation to create an exchange last year failed and the prospects to pass similar legislation this session appear dim. Meanwhile, the Democratic administration of Gov. Mark Dayton is still moving forward with its planning.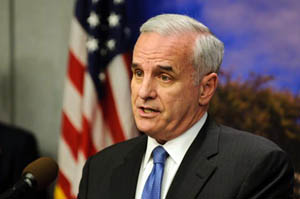 Minnesota is one of 10 states to receive federal money in this latest round of grants. It's a substantial award — until now, the federal government has awarded Minnesota two grants totaling a little more than $5 million. An estimated 1 million Minnesota consumers and small businesses are expected to use the online marketplace to evaluate and purchase health plans within a couple of years.
This latest grant will fund the development of software that will enable Minnesotans to make apples-to-apples comparisons of different health plans, State Commerce Commissioner Michael Rothman said.
"To do that takes a lot of computer technical infrastructure," Rothman said. "Those people who'll be eligible to purchase on the exchange have to go through a process — basically an application for the enrollment. And all of that takes hard work behind the scenes."
The grant sets off a new round of criticism from Republican state lawmakers of the law and of Dayton's administration. GOP lawmakers say that the governor is moving ahead with an exchange without input from the Republican-controlled legislature.
State Sen. David Hann, R-Eden Prairie, a staunch Dayton critic on the issue, said the GOP will introduce legislation aimed at improving the availability of insurance for Minnesotans, but not via the governor's insurance exchange — something that Hann is dead-set against.
"I think the public ought to be very concerned about a governor who's refusing to tell the public how he's spending millions and millions of taxpayer dollars," Hann said.
The administration counters that the governor created an advisory task force with two open seats for Republican lawmakers that have gone unfilled.
Listen to the story
Feds give MN $26M to develop insurance exchange
The governor's office said Minnesota has to show it can operate a state exchange by year end, or the federal government will impose a one-size-fits-all exchange on the state. That's something that even conservative-leaning groups, such as the Minnesota Chamber of Commerce and Minnesota Citizens Concerned for Life, have put pressure on lawmakers to avoid.
Scott Fischbach of MCCL hopes the grant will engage state lawmakers in the process to build the exchange.
"It's another strong green light indicator for the legislature to engage and to get active and to work with the administration to develop the best possible program for the people of Minnesota," Fischbach said.
There remains a question about whether the Dayton administration is authorized to spend all of this grant and whether it may have to seek approval from a hostile legislature.
It appears that authorization to spend about $3 million of the total federal grant funding is in question. The state is receiving more than $31 million in federal grants in total, but the legislature has authorized spending about $28 million.
Rep. Steve Gottwalt, R-St. Cloud, said a request to the legislature to spend the additional $3 million could be good for the process.
"If they need legislative authorization to spend additional moneys and feel they need to spend that, perhaps that creates a more even ground for us to have a discussion, dialogue or negotiation about what is being built with that money," Gottwalt said.
Rothman says the authority to spend all the federal grant money already exists under what he called a "variance" that applies in this circumstance.
In any case, the ongoing battle between the administration and Republican critics of the health law shows no sign of ending soon.