Unlike many states, Oregon is picking up the new federal health care law and running with it.
For example, the Oregon Health Department is already setting up new accountable care organizations — something the federal government doesn't require until next year.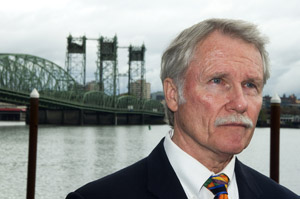 But true to its reputation as a maverick, Oregon wants to tweak the process.
Its accountable care organizations will be called coordinated care organizations. And, instead of just aiming to cut costs and increase the quality of care, Oregon wants to actually grade them.
But how do you grade a health care organization? Physician Tom Syltebo says one idea is to look at the average Body Mass Index — or BMI — of its patients.
More
Here's more on Oregon's coordinated care organizations:
"One measure maybe, and we haven't decided this, maybe making sure we understand what all the members of an Accountable Care Organization, what their BMI is and then see what happens to that over time," said Syltebo, who works for Kaiser Permanente (which is not affiliated with Kaiser Health News). "Hopefully through education and other types of intervention, you would see those numbers decreasing."
He says if an accountable care organization can show its patients are losing weight, then it shows they're generally becoming healthier.
The state is also considering grades for success in reducing the number of patients who smoke and lowering the percentage of patients who end up in the ER. The idea is that if patients are in the ER less, they're being looked after better at their doctor's office.
The push for health care change in Oregon comes largely from the state's Democratic governor, John Kitzhaber. He's a former Emergency Room doctor and a keen advocate for health care change.
His hope is that the new grading system might eventually be adopted by private health insurance companies. That way they will be able to differentiate themselves on quality, instead of just cost.
To do all that, Kitzhaber is trying to get a series of waivers from the federal government — a path he's trodden before. In 1993, President Bill Clinton waived several federal rules to allow Kitzhaber to launch the Oregon Health Plan. It makes health care more available to the working poor by rationing benefits.
For example, it stopped providers from prescribing expensive and ill-proven drugs, then used the money on cheap and well established drugs for more people. In 2009, the legislature expanded the Oregon Health Plan to cover all uninsured children in the state.