Sarah Rose Nordgren works 25 to 30 hours a week as a waitress at an upscale restaurant in Chapel Hill, N.C. She also tutors high- schoolers on their college entrance essays and has an editorial internship at a book publisher. But if something were to go seriously wrong with her health, she'd be in trouble because none of her three jobs offers health insurance.
She's been looking for a full-time job with benefits for several months, but there's nothing on the horizon. So she shuttles between jobs and hopes that she stays healthy.
Nordgren's situation is not unusual. Fewer than a third of employers that offer health insurance make it available to their part-time workers, according to the Kaiser Family Foundation. (Kaiser Health News is a program of the foundation.) And even if health insurance benefits are offered, part-timers, who often work in lower-paid retail, restaurant and service jobs, may not be able to afford them.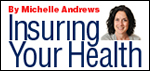 The health-care overhaul will greatly improve insurance prospects for part-time workers – but not right away. Starting in 2014, the state-based exchanges, designed to help people find affordable health insurance, will offer a choice of subsidized health plans with different levels of coverage for part-timers and others who don't get insurance through their jobs. The law also expands the Medicaid program to permit adults with incomes up to 133 percent of the poverty level (for an individual, that's $14,410 this year) to qualify for coverage.
But 2014 is more than three years away. In the interim, part-timers may have limited options. In Nordgren's case, she signed up for a program through the restaurant that allows her to get primary care services for $60 a visit through Piedmont Health Services, a network of six community health centers.
"It's not insurance, but it's accessible and affordable for ongoing needs," says Briggs Wesche, the general manager of A Southern Season, the gourmet market that houses the restaurant where Nordgren works.
Community health centers are a good option for part-timers and others without insurance. The centers serve all comers, and fees are generally charged on a sliding scale based on income. Center locations can be found on the Health Resources and Services Administration Web site, www.hrsa.gov; local public health departments and primary care associations may also list affordable programs.
Businesses are only beginning to grapple with the changes that the new health-care law will bring. Starting in the fall, health plans are required to eliminate lifetime limits on coverage as well as most annual limits on specific services. This could spell trouble for the many businesses that offer so-called limited-benefit plans to their part-time workers.
The YMCA of Greater Rochester in New York offers this type of plan to its 450 part-time workers. The plan pays for five in-network doctor visits a year, with $10 co-payments. It covers $11,000 annually for hospitalization. Prescription drug coverage maxes out at $500 a year. For these and other services, individuals pay $968 annually, and families pay $2,804.
Patient advocates have criticized such limited-benefit plans for offering skimpy coverage at a high price. Only 29 workers have signed up for the YMCA plan, according to Fernan Cepero, vice president of human resources at the Y. However, the Department of Health and Human Services may be thinking that these plans are better than no coverage at all. Guidance explaining the rules for eliminating the annual and lifetime limits says limited-benefit plans may request a delay.
Starting in 2014, businesses may face penalties if they don't cover full-time workers, but they won't be penalized for not covering employees who work less than 30 hours per week. In a recent survey of 800 employers by human resources consultant Mercer, more than half of those that don't provide insurance to workers at that threshold said they would consider reducing workers' hours.
Fortunately, even if employers trim workers' hours, the exchanges will offer an alternative for part-time workers.
That can't happen too soon for such workers as Cheneta Forest, who works 20 hours a week at a restaurant in New Orleans. Forest, 42, has diabetes. Her job doesn't offer health insurance. She goes to the emergency room two or three times every week because she feels sick or needs insulin. At $45 a visit, plus $50 for the insulin, her monthly ER expenses would easily cover a health insurance premium. But no one will insure her. "I'm a sickly person, and I need health insurance," she says. "It's a big problem."
This is a weekly column covering consumer questions about the new health law. If you have questions or ideas for future topics, please email us:

questions@kaiserhealthnews.org .