Drugstore and supermarket pharmacies across the country have launched a marketing blitz to attract flu shot customers, touting the convenience of stopping at a local drugstore and often offering drop-in vaccinations anytime the pharmacy is open — sometimes even 24 hours a day.
"If you decided at 4 o'clock in the morning you wanted to go out and had nothing better to do than get a flu shot, you could walk right in and you could get a flu shot," says Scott Gershman, pharmacy manager at a Walgreens drugstore in Springfield, Va. The wall outside his store is plastered with a giant sign reading "Walgreens flu shots. Walk in anytime."
Listen to this story
Listen to this story on NPR:
Just after the weather turned cold in late September, Shelley Troff and her 13-year-old son dropped by Gershman's pharmacy one afternoon to get their annual shots. Troff says she didn't even consider going to her doctor's office. "To be frankly honest, Walgreens is easier," she explains. "Since this is one mile from my house and the clinic is 20 minutes from my house, this is where I come."
Pharmacies usually charge between $25 and $32, while a shot at the doctor's office usually costs at least $48, according to Matthew Davis, a pediatrician and associate professor at the University of Michigan in Ann Arbor. But for most people with insurance, cost is not the issue—convenience is. That's because the shots are generally paid for by insurance.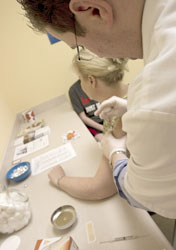 For the Troffs, there was no out-of-pocket expense. The pharmacy billed their insurance. That is true for many consumers because under the Affordable Care Act enacted in 2010, most insurers can no longer charge copays for preventive care, including flu shots. Some plans are exempt from that because they were grandfathered under the law.
The majority of Americans still get their flu shot at the doctor's office, but an increasing number, like the Troffs, are going to their local pharmacy instead. In 2010, 18.4 percent of adults who were immunized received the flu vaccine at a supermarket or drugstore, just edging out workplace vaccinations for the second most popular venue, according the Centers for Disease Control and Prevention. 
The H1N1 epidemic in 2009, which showcased a particulary deadly strain of flu, helped propel the trend; the panic sent customers running to drugstores, which often had vaccines available after physicians' offices had run out. "It became clear to the government and Americans that pharmacies can provide easy access to vaccines," says Edith Rosato, senior vice president of the National Association of Chain Drug Stores.
But while more people are going to the pharmacy, the number of Americans who get the flu vaccine each year has remained fairly constant at about 40 percent of all adults. 
Drugstores and supermarket pharmacies are eager to stake out a bigger piece of that market. Gershman spent his first seven years at the Walgreens behind the pharmacy counter, filling prescriptions and dispensing advice. Three years ago, he entered a training program on delivering vaccines. Now, he spends a good part of his fall and winter workdays vaccinating customers. He says "being able to step out behind the counter and talk one-on-one with patients" is among the most rewarding parts of his job.
Nationwide, the number of pharmacists trained to deliver vaccines has nearly quadrupled since 2007, from 40,000 to 150,000.
The stores hope to market their growing vaccine business, even offering incentives to customers. At Safeway, the flu shot brings a 10 percent discount on groceries. CVS offers a $5 gift card. Rite Aid gives away a coupon book worth $100 in potential savings.
Nonetheless, it is not clear how profitable the flu shot is to pharmacies, and experts' views differ. Revenue figures are proprietary, but Katherine Harris, a senior economist at the Rand Group who studies the vaccine market, says flu shots are not usually a big money-maker.  They often involve taking time away from other duties to educate patients and bill insurers, she explains. Other analysts believe drugstores earn profits of 30 to 50 percent on the procedures, according to The Wall Street Journal.  
Rosato explains that flu shots are an important public service as well as an effective way to gain customer business. "Everyone is trying to drive customers into the store to get their flu vaccine and then hopefully build customer loyalty" so they will buy other products as well, she says.
Vaccine campaigns are part of a broader effort to expand the role of pharmacists in health care delivery, says Rosato. "With the shortage of primary care and other professionals in the future," she explains, pharmacists see an opportunity to work closely with doctors and nurses to advise patients with chronic illnesses, offering blood pressure and diabetes screenings and medication management. "Immunization is just one piece of it."
Thus far, doctors have not pushed back against the efforts. Vince Hartzell, who with his father owns a pharmacy in Catasauqua, Pa., says 10 of the local physician practices actually refer their patients to his pharmacy, grateful to give up a service that is not particularly lucrative. 
But some experts warn that getting the flu vaccine at a pharmacy is not right for everyone, particularly patients with chronic illnesses or those who are uninsured.
"If you're uninsured, go shopping," says Davis. He says the uninsured can often find a cheaper option at their local health department, where the vaccine may even be free.
Davis recommends that anyone with a chronic illness stick with their primary care doctor for the flu vaccine as part of an effort to "track vaccinations and manage effort to vaccinate high risk population in more efficient way."
He adds that while it's good for private retailers to join the vaccination army, he also worries that some patients might skip the annual doctor's visit altogether.  "The main concern about pharmacy-based vaccination is that it might somehow discourage patients from otherwise following up with their doctors."