Private health plans that oversee care for Medicaid patients have seized on a federal health law provision that could compound the boom their industry already expects in 2014, when the law steers 16 million more members into the state-federal partnership for low-income people.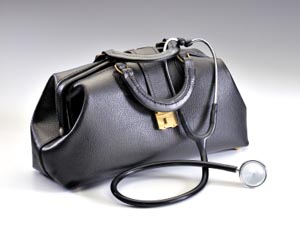 They are lobbying states to form so-called "basic health plans" that would cover people earning up to 200 percent of the federal poverty line, about $22,000 a year for an individual, under Medicaid-like rules. The law already expands Medicaid to those earning about $15,000.
"Medicaid-only plans are looking at the BHP as an opportunity to expand their market position," said Deborah Bachrach, a former New York Medicaid director who now advises states on health policy for the consulting firm Manatt, Phelps & Phillips. Medicaid plans could pick up higher-earning members without having to compete with larger commercial insurers.
It makes sense to cover currently uninsured low-wage workers in a Medicaid-like plans, rather than commercial insurance, argues Stephen O'Dell, senior vice president of the publicly-traded Medicaid insurer Molina Healthcare. The premiums, deductibles and co-pays in the commercial market are out of the reach of  those workers.
Molina, a $4 billion company, is joining smaller nonprofit plans to lobby California and other states to adopt the program. California's Medicaid program, which contracts with Molina and other plans to manage patients' care, will add more than 2 million members beginning in 2014. The BHP could push more than 700,000 additional people into the potential market for such insurers.
A proposal is wending its way through Sacramento. It's on hold at least until a legislative committee takes up a list of pending appropriation bills next week; little formal resistance has emerged, but questions, such as who would govern such a BHP, are still being debated. Other states, such as New Hampshire, are crunching numbers to decide whether to pursue the idea.
Basic health plans are based on a program designed in Washington state. Sen. Maria Cantwell, D-Wash., squeezed the provision into the health law to offer states a potentially more affordable alternative to the state-run insurance exchanges that are also in the works for low-wage workers. The exchanges would steer federal subsidies to people earning up to 400 percent of the poverty line, about $43,500, to buy insurance.
O'Dell said "there's no question that in the exchange, there would be higher" prices for insurance. "People would look at it and say, I have to pay more, why would I even want to join. These are not people who have historically been without insurance anyway."
Exchange subsidies won't kick in until people pay a portion of their income for insurance. People earning 200 percent of the poverty line, $21,670 for an individual this year, will have to put 6.3 percent of their incomes – $1,365 a year – towards coverage before receiving subsidies.
"It would be more affordable [for low-wage workers] to have a basic health plan option," said Howard Kahn, the chief executive of LA Care, a public, nonprofit Medicaid plan in Los Angeles that is lobbying the state legislature on the issue. "If the premium they have to pay is a lot lower, you'll have more people opting to enroll."
A study prepared by Mercer, the consulting firm, said the arrangement could be budget-neutral for the state. Under the health law, the federal government will give states with basic health plans 95 percent of the money it would otherwise spend on exchange subsidies, more than enough, Mercer said, to pay for Medicaid-like coverage.
The California Association of Health Plans said it wouldn't take a position on the idea, citing the "diversity" of its members. A spokeswoman for the California Medical Association did not immediately return a phone message.  California doctors have long complained that Medicaid rates in the state are far too low, and may resist the similar program, even if it pays higher rates, as Kahn predicts.
Some members of the state's Health Benefit Exchange Board, created by legislation last year to oversee the development of the exchange, have cautioned that the basic health plan could be a risk for the exchange because it would shrink the new marketplace. They also say it's risky to launch a new program like this before federal regulations are released.
Cherie Fields, a lobbyist for LA Cares, said that doesn't make any sense. "California would not have its Exchange [Board] today if we waited for [regulations] to be finalized," she wrote in an email. Rules for exchanges continue to trickle out of Washington.