Medicaid patients in Spartanburg, S.C., face long odds in finding a new doctor.
Most specialists in the city don't see Medicaid patients and primary care physicians generally will see only one new Medicaid patient a month, says Dr. Fran Kunda, a Spartanburg family doctor and chair of the South Carolina Academy of Family Physicians.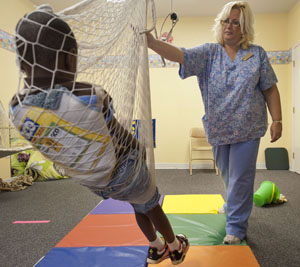 But with the latest round of Medicaid cuts on doctors taking effect Friday, Kunda fears access problems will only worsen in Spartanburg and other parts of the state.
South Carolina, which reduced reimbursement rates to all Medicaid providers by 3 percent in April, at the end of this week is imposing another 2 percent cut on all doctors, except obstetricians and neonatologists.
It is one of about a dozen states that have opted to cut the Medicaid rates this month to doctors, hospitals and other providers to help limit spending in the federal-state health program for low-income and disabled residents. 
"It's going to get a whole lot tougher for people on Medicaid to find a doctor," said Kunda, who doesn't accept any new patients regardless of type of insurance. Finding a specialist is especially difficult, she said, noting she knew of no orthopedic surgeons in the city who treat Medicaid recipients. The closest is in Greenville, 35 miles away.
Even before the new cuts, she said, Medicaid pays doctors $45 to see a sick child — compared to $75  from most private insurers. For an adult with several chronic health issues, she gets paid $70 by Medicaid compared to $110 from private insurers.
Anthony Keck, South Carolina's Medicaid director, said the state's rates for doctors, hospitals and other providers are still higher than the national average. "We think the rate cuts will have little effect on access, but we will be monitoring it," he said.
But a study published last month in the New England Journal of Medicine suggested low rates can lead to reduced access to care.
The study found 66 percent of requests for appointments for speciality care for Illinois children on Medicaid were denied, compared to 11 percent for children who had private insurance. Patients on Medicaid also waited 22 days longer for an appointment than did those with private insurance. The study cited Illinois' low Medicaid reimbursements as key factor for the access problems.
Because of the South Carolina Medicaid cuts, Kathy Maxwell, who owns a pediatric therapy clinic in Greenville, S.C., said she had to lower salaries of her 24 employees by 6 percent. She fears some of her physical, speech and occupational therapists may leave as a result.
"It was some very sobering news for highly skilled therapists that change lives of children," she said.
About 70 percent of children at the clinic called Pediatrics Unlimited are on Medicaid.
With a shortage of doctors, Kunda said, patients have little choice but to use hospital emergency rooms for more routine care. And that can drive up costs for the Medicaid program and may not be best for patients looking to establish a relationship with a regular physician, she said.
South Carolina's Medicaid payments to hospitals is also going down. In addition to the 3 percent cut in April, the state is cutting rates by 4 percent to most hospitals Friday.
Unlike doctors, hospitals don't have the option of opting out of Medicaid. But hospital Medicaid cuts can still indirectly reduce patients' access, said Judith Lave, director of the Pennsylvania Medicaid Policy Center in Pittsburgh. For instance, lower Medicaid payments can lead some hospitals to eliminate maternity care, she said. Nearly half the births in the United States are paid for by Medicaid.  
South Carolina hospitals are instituting hiring freezes as a result of the Medicaid cuts and are re-evaluating offering some community services, the state hospital association said.