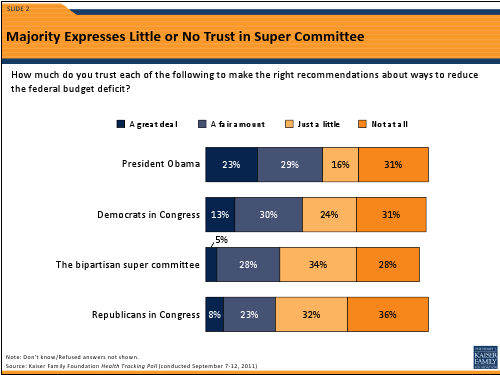 Americans have little faith the bipartisan congressional "super committee" will reduce the federal deficit, according to a survey released Friday.
Sixty-two percent of respondents said they either trust the super committee "just a little" or "not at all" to make the right recommendations to cut the deficit, according to the poll by the Kaiser Family Foundation (KHN is an editorially-independent program of the foundation).
Just 5 percent of respondents said they had "a great deal" of trust in the committee. More people believe the right recommendations would be made by President Barack Obama (23 percent), Democrats in Congress (13 percent) and Republicans (8 percent).
Forty-one percent of Democrats said they either had a "great deal" or "fair amount" of trust in the committee, compared to 31 percent of Republicans.
Members of the super committee have until Nov. 23 to make recommendations and Congress must vote on them by Dec. 23. If Congress doesn't act, spending cuts totaling $1.2 trillion over 10 years would automatically be triggered.
The survey of 1,207 adults was conducted Sept. 7 to Sept. 12 and has a +/-3 percent margin of error.